Pull-Up Baby: 10-Month-Old Jonas Goes To Tremendous Lengths To Watch "Jungle Book"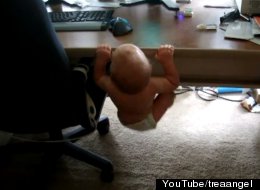 "Can your baby do pull-ups?" the proud parents of an impressively macho 10-month-old "Jungle Book" fan ask innocently on YouTube. Forget babies -- we can't even do this many.
Intent on watching a YouTube clip of the "The Bare Necessities," but too tiny to see the computer screen from the floor, baby Jonas does nine pull-ups in just over a minute. For a kid this motivated, potty-training will be a breeze. Maybe he'll even grow up to rival record-holders Giuliano Stroe (who did 20 air push-ups at age 5) or Naomi Kutin, who squatted 215 pounds at age 10.
Via Gawker and Viral Viral Videos