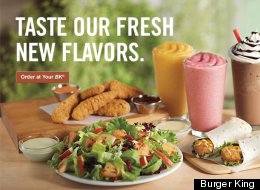 By Erik Trinidad
It took the royal touch (and a lot of money) of the self-proclaimed king of burgers to commandeer celebrities to endorse a new food product line. If you've seen Jay Leno, Mary J. Blige, Salma Hayek, Steven Tyler, Sofia Vergara, or even international heartthrob David Beckham use their fame-fueled influence in a new ad campaign for Burger King, you know something at BK is aiming to be more buzzworthy than the mere addition of mushrooms on a Whopper. For the first time in its 58-year history, BK has expanded its offerings broader than ever before, with 10 new items that strive to better diversify their menu -- akin to burger competitor McDonald's. However, burgers are not the focus of the new items; in our health-conscious world, the king of burgers has instead focused on chicken, salads and frosty beverages.
See how they rate:
Grade: B- A blend of mixed greens is topped with tomatoes, red onions, three cheeses, and of course, bacon -- plus your choice of grilled or crispy chicken. However, there's not enough of the toppings in it for a consistent taste in every bite; near the end, you're just stuck with a pile of lettuce, dependent on salad dressing for any sort of taste. Calories: 510 (with grilled chicken and dressing; add 180 for crispy chicken).

Grade: B+ When prepared as intended -- with all the ingredients, including the croutons and citrus Caesar dressing -- this salad is quite tasty. (The first time I ordered it, the specific BK location had run out of the croutons and dressing, warranting it a lower grade.) Of course you can always, as they say, "have it your way" and not add the croutons or dressing (they come in separate packets), but it's those two things that really define a Caesar salad. The taste is good, with either the added saltiness of grilled or crispy chicken, plus the hint of lime and lemon in the dressing is a nice touch -- although it's the dressing that's the most fattening part of this "healthy salad" with 160 calories from fat. Calories: 490 (with grilled chicken and dressing; add 180 for crispy chicken).

Grade: A This is my favorite of BK's new Fresh Menu items, a solid salad of mixed greens, tossed with sliced apples, dried cranberries, bleu cheese crumbles, and your choice of grilled or crispy chicken. Burger King's website suggests that this should be eaten with an apple cider vinaigrette, however the salad sans dressing is flavorful enough. The saltiness of the chicken and the umami of the bleu cheese is nicely balanced with the sweetness of the apples and cranberries -- and there's enough of it all tossed around that you're not stuck with just lettuce when you're near the bottom of the plastic bowl. Calories: 520 (with grilled chicken and dressing; add 180 for crispy chicken).

Grade: A Pre-cut strawberries and bananas are blended with yogurt in this Beckham-endorsed smoothie. The apparent sugar in the yogurt doesn't overpower the taste of the fruit; the flavors of strawberry and banana are still present when you sip it -- just beware of a brain freeze. Calories: 310 (medium size).

Grade B+ It's hard to tell if the sweetness of this blended, frosty fruit beverage comes from added sugar in the yogurt or the inherent sweetness of ripe mangoes. Either way, it's a thick, sweet treat if you're feeling in the mood for something tropical. Calories: 330 (medium size).

Grade: B Following the lead of longtime rival McDonald's, BK now offers snack wraps for a quick pick-me up. This ranch dressing incarnation isn't under or overstated; it merely is what it is: a crispy chicken strip inside a wrap, with lettuce, a pinch of a generic tasting three-cheese blend, and tangy ranch dressing. Calories: 370.

Grade: B Like its ranch dressing sibling, this chicken snack wrap is a light, standard tasting option for those who prefer the sweet and sour taste of honey mustard over the tanginess of ranch. Unlike the standalone chicken strips, the breading in the crispy chicken wraps isn't too thick and overbearing. Calories: 370.

Grade: C These white meat chicken tenders battered in "seasoned home-style breading" are pretty dry and generic, like the frozen variety you can get from your grocers' freezer -- that's because they're most likely delivered frozen with no fresh battering actually happening in the Burger King. That's understandable though; logistics, I understand. However the seasoning in the batter of bleached wheat flour, modified corn starch, yellow corn flour, and leavening is rather bland, and there's too much of it coated over the actual meat. Therefore, any real flavor in the chicken strips dependent on dipping sauces -- most of which taste really artificial, whether it be the Jalapeño BBQ Sauce or the Kung Pao Sauce. Calories: 610 (five strips).

Grade: B- If you're looking for a quick caffeine fix for a mid-afternoon slump, this may not be the drink for you. Sure you'll get a rush, but this coffee drink is so sweet -- it's topped with a big layer of whipped cream and chocolate syrup -- it might as well be marketed as a milkshake. Just know that going in if you order it, because you'll definitely crash from a sugar rush in no time. Calories: 200 (medium size).

Grade: B Like its Mocha Frappé sibling, this sweet concoction of ice, coffee, and caramel should be marketed as a milkshake, or even a dessert. Caramel is a sweet, so you already know what you're getting into if you opt for this one, and then some -- it's topped with a thick layer of whipped cream and drizzled with caramel. Too bad there's no cherry on top. Calories: 200 (medium size).