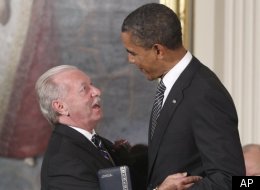 For over 40 years, powerful leaders and everyday Americans alike have been recognized for their outstanding acts of service.
That recognition, the Presidential Citizens Medal, is one of the nation's highest civilian honors -- and now, its up to you to decide who gets it.
Obama announced Monday that for the first time nominations will be accepted for the 2012 Citizens Medal as an opportunity for people who have made significant differences in their community -- even if they haven't garnered national attention, according to a press release.
"These citizens come from different backgrounds and they've devoted their lives to different causes, but they're united by the choice they've made to help others," Obama said in the release. "The 2012 Citizens Medal is a chance to recognize these everyday heroes in your community."
To nominate someone for the Citizens Medal, fill out the online application through April 24. The nominations will be narrowed by White House staff members, and winners will awarded at a ceremony with the president.
In 2011, Obama gave the award to 13 people, whose causes and service ranged from LGBT issues to the environment to domestic abuse.
To learn more about last year's winners, check out the slideshow below:
The Aldermans founded the Peter C. Alderman Foundation in their son's name after losing him in the September 11th terrorist attacks. The Foundation aims to help victims of violence cope with emotional trauma.

Roberto Perez is fighting global illiteracy as president of Alfalit. He has spent his life working as a social worker and counseling prison inmates and recovering alcoholics.

John Keaveney, a Vietnam War veteran, began New Directions, a home for the homeless and disabled veterans in 1992 to help the hurt and hungry with counseling, remedial education, job training and placement, and managing addiction.

Roger Kemp founded The Ali Kemp Defense Education (TAKE) Foundation to train women in self-defense after his 19-year-old daughter was murdered in 2002.

Janice Langbehn filed a federal lawsuit after being refused hospital visitation rights when her partner died of a brain aneurysm while they were on family vacation. Her dedication to equal rights contributed to President Obama's revision of hospital visitation rights for same-sex couples in hospitals receiving federalMedicare or Medicaid funding.

Margaret Martin founded the Harmony Project to provide an arts education to thousands of children who would otherwise never have a formal education in classical music.

Michelle McIntyre-Brewer founded Soldier's List, an organization that sends care packages across the globe to fulfill the "wishes" of high-risk military members and their families.

Clarence Alexander has made it his life's project to clean up Alaska's Yukon River through enormous recycling projects.

Camilla Bloomquist has founded several organizations targeting the poor in her New York community including Food for the Needy, Christmas for the Needy, and the Weekend Backpack Program.

Judith Broder created the Soldiers Project, an collective of mental health professionals who provide free counseling to service members, war veterans, and their families to help them cope with PTSD and emotional and social struggles.

Though Vijaya Emani was killed in a vehicle accident in 2009, but her she lives on as a role model for victims of domestic abuse. Her daughters, Sujata and Nirmala, accepted the award on her behalf.

Ida Martin began Bluffton Self Help in an effort to help the South Carolina community in need of basic essentials. Since then, Self Help has fed 11,600 people and clothed almost 9,000.