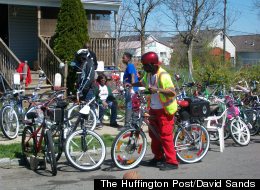 Known for colorful lights, flashy bikes, boomboxes and an upbeat attitude, Detroit's East Side Riders bike club has played an instrumental role in popularizing bicycling in the city over the last few years.
Brothers Mike and Dywayne Neeley started the group about four years ago. At the time, Mike was suffering from diabetes and took up biking to lose weight and improve his health. During one of his early rides to Chene Park, Mike spotted some custom bikes that left an impression. Later, he shared the inspiration with Dywayne, who began making his own bicycle modifications.
"Those guys, they had lights and a few items on their bikes, so we just went crazy with it," Dywayne said. "We got DVDs, TVs, radios, lights. It's like a competition, but it ain't a competition. We just have fun with it."
Dywayne and his brother began scavenging old couches for leather and volunteering at The Hub of Detroit, a bike space and community center in the Cass Corridor, where they could get access to parts in exchange for helping out. The bikes started to get pretty wild looking; eventually the brothers created a grill bike with an attached barbecue so they could have cookouts during their outings.
(SCROLL DOWN FOR PHOTOS)
Mike said "things just blew up," after they began showing off their special brand of custom bikes. "Everybody saw what what we was doing and they wanted to do what we was doing. So all these different bike groups started popping up."
The Neeleys refer to this collection of Detroit area bicycle clubs collectively as "Bike Nation." Combined, the groups make a rather sizable crowd.
"When the East Side Riders show up, GMOB (Grown Men On Bikes) show up, the Inkster Pedal Pushers show up, Southwest, Downriver, when everybody show up it's like 3,000 bikes," said Mike.
The East Side Riders has grown as well, and now the club has about 30 members, mostly friends and family, ranging in age from 3 years old to 62.
Keya Mills was one of the first to join up, and she now rides with her daughter and granddaughter.
"I'm the first lady and I love it," she said. "We go barbecue; every holiday we ride; we get the kids together. We just do things for the community and we have fun doing it."
Dywayne said community service is mandatory for those who join the East Side Riders. The group gives back in a variety of ways: feeding the homeless, patrolling their neighborhood on Angel's Night and helping tend to the nearby Georgia Street Community Garden.
Mike has also given back by sharing his know-how with another club: He now rides with the west side group Grown Men On Bikes, which is based a little closer to his home. (Check out their NSFW theme song here).
"They didn't know how to form their club, and they didn't know how to ride in the traffic like that," Mike explained. "And I figured I'll ride with them." He helped GMOB get off the ground and now considers himself a member. The change, however, hasn't stopped him riding with his old crew.
"I'll ride with them and I'll ride with the East Side Riders. It's all love," he said.
Check out some of the East Side Riders' amazing custom bikes:
Detroit East Side Riders' Amazing Custom Bikes
Several East Side Riders pose with their bikes. Co-founder Dywayne Neeley is shown third from left. His brother, Mike, the other co-founder -- and a current member of Grown Men On Bikes (GMOB) -- is pictured in back.

East Side Rider co-founder and current Grown Men On Bikes (GMOB) member Mike Neeley shows off one of his bikes.

Two rows of East Side Riders' bikes.

Close-up of East Side Riders' detail.

King Wayne's spider bike.

Check out the paint job on this red, yellow and green monkey bike.

Close-up of monkey bike.

A red tandem bike with tassels and storage bags.

Dywayne Neeley originally wanted this bike to be "Incredible Hulk"-themed, but his fellow riders persuaded him to make it a Heineken bike because the colors matched better. The bottles in back light up at night.

A closeup of the Heineken bike.

A tan bike with comfortable seating and rear-view mirrors.

Check out the lights on the front wheels of this bike.

The Riders take this BBQ bike out with them when they're in the mood for some grilling.

This mask was added to the bike after a Halloween ride.

Check out the baseballs on this Detroit TIgers-themed bike!

A black-and-white tandem.

High handlebars, a beautiful purple saddle and unforgettable mirrors make this bike truly stand out.

This bike sports a checkered theme.

The handlebars ride high on this cruiser.

East Side Rider Phil Neeley Rides.

Dywayne has added a boombox to his bike. When he tunes it with his brother Mike's bicycle, the songs come out in stereo!