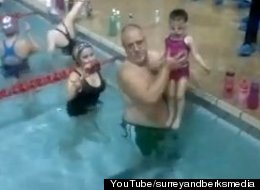 Just weeks after undergoing open heart surgery as an infant, Rosanna Ogden's swimming lessons were not only aiding her recovery, but revealing an extraordinary talent.
Now 2-years-old, the British toddler first took to the water at just 10-weeks-old after she had an operation to remove a life-threatening tumor in her heart.
Doctors said that physical activity would help the recovery process, so Rosanna's parents enrolled her in swimming lessons for infants, the Daily Mail reports.
By the time she was just 13-months-old, Rosanna was already swimming on her own, leading some to dub her a "Miracle underwater swimmer girl," according to the British Heart Foundation.
During a charity event, Rosanna swam 100 meters and raised nearly 600 pounds (around $1,000) for the British Heart Foundation, according to Granada Reports.
Though swimming coach Mary Parkinson usually doesn't teach children younger than four, she said she was taken aback by Rosanna's ability.
"She's a fish," Parkinson told the station. "She just swims along, smiling away."
Rosanna's parents said they hope their daughter's survival story inspires others facing similar situations.
"We longed for somebody there to tell us these things, so we could have had more hope," they told the British Heart Foundation.
So what's in store for Rosanna's future?
"Hopefully Olympic Gold," Ben Hamlett, Rosanna's swimming instructor, told Surrey And Berks Media.
Read more about Rosanna Ogden's story on the toddler's blog.
WATCH: