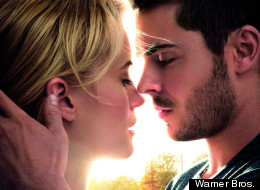 Nicholas Sparks really knows how to write a love story. Some might even say that he's mastered the art.
In a little more than a decade, he's managed to create his own recipe for the perfect romance, so much so that the best-selling author has already seen seven of this novels turn into hit movies, including "A Walk to Remember" and "The Notebook."
His latest film adaptation, "The Lucky One," follows Sparks' recipe perfectly, starting with his first ingredient: A ridiculously attractive leading man.
In 2004, a practically unknown Ryan Gosling starred in Sparks' "The Notebook" and captured the hearts of young women everywhere with one rain-soaked kiss. Not only is the film now a Valentine's Day essential, but Gosling is one of Hollywood's most in-demand leading men. Then, in 2010, a young Channing Tatum starred in "Dear John" before launching into total superstardom with leading roles in "The Vow" and "21 Jump Street."
"We've been pretty fortunate with our casting," Sparks told HuffPost Entertainment. "I always want young actors with great emotional depth. That's essential. I wish I could say that it was these movies that launched their careers, but they're all just good actors. We were lucky that we found them."
For "The Lucky One," Sparks chose Zac Efron -- who is perhaps still best-known for his roles in Disney's "High School Musical" franchise -- as his hunky protagonist, U.S. Marine Logan Thibault.
"Zac was the perfect choice," Sparks said. "We were looking for someone who was the right age. If you're not an officer, you're 18 to 25 ... We also wanted someone who had already been in front of a camera because Logan was a tough role to play. It took a lot of depth. [...] Zac just seemed most suited for the role. He worked so hard at it too. He put on 20 pounds of muscle, and he worked out for three hours a day. It wasn't easy."
After adding the perfect leading man, every Sparks' novel-turned-film needs a dash of drama. In "The Lucky One," Logan returns to North Carolina after his third tour of duty in Iraq, with the one thing he credits with keeping him alive -- a photograph he found of a woman he does not even know. Upon his return to the U.S., Logan is also struggling with post-traumatic stress disorder.
Stepping into the shoes of an emotionally distressed Marine may not have been an easy road for Efron, but for Sparks, Marine culture was something that he grew up with up in North Carolina.
"My father-in-law was a Marine, and I grew up near two Marine bases, so I didn't have to do too much research as to what kind of people they were," he said. "They were my neighbors. I talked to a lot of them after they got back from deployment to see how much being deployed affected them. For some, it affected them a lot, and for others, depending on how much they went through, not so much. Of course, with each deployment, it affects you more and more. That's where Logan's story picks up because he's been deployed three times, and now he's out. How does he move on in his life?"
Of course, with the perfect leading man and the right amount of drama established, Sparks adds another important ingredient -- the equally-as-attractive leading lady. In this case, it was relative newcomer Taylor Schilling who snagged the part of Beth, the woman in Logan's lucky picture.
"We were looking for an actress who had great chemistry with Zac," Sparks said. "It's something that you just know when you see it. It was was the same thing when Rachel [McAdams] did her audition, and I was like, 'Oh there's Allie.' Taylor just had perfect chemistry with Zac, and I was like, 'She's perfect! That's her.'"
So with the attractive protagonists in place, now Sparks develops their everlasting love story. He adds a pinch of pleasure (lip locks, stolen glances and one long-overdue sex scene), a dash of suspense (will they end up together?) and finally, a bit of happiness (that final kiss).
Sounds delicious, right? Well, when it comes to crafting a love story, sometimes the endings aren't so sweet, and the perfect love story doesn't always end in everlasting love. However, if everlasting love is the intended outcome, as a precaution, don't add any teenagers to the mix.
In a recent feature for USA Today, Sparks revealed, "If you're going to write a novel about everlasting love, the characters can't be teenagers." Now, this might seem a bit hypocritical considering that his seminal novel, "A Walk to Remember," was all about teenage love, but according to Sparks, love has many different flavors.
"I write real, romantic drama, not romantic fantasy," Sparks said. "I'm not putting down 'Twilight' because that is a romantic fantasy novel, but you can't write about everlasting love if it hasn't lasted. It can be a deep love, it can be a real love, it can be true love, it can be a passionate love, but it can't be everlasting because it hasn't lasted. Noah and Allie in 'The Notebook' have an everlasting love. But that doesn't mean it's not real. [...] Jamie and Landon in 'A Walk to Remember' is a powerful, true love, but I wouldn't say it was everlasting."
So what about the love between Logan and Beth? Unfortunately, Sparks won't reveal that ending just yet. It looks like fans will just have to taste that one for themselves when "The Lucky One" hits theaters on April 20.
Sparks is currently casting for his next film adaptation, "Safe Haven." He hopes to begin shooting the film at the end of May. He's also finishing up the script on his next adaptation, "The Best of Me."
The best-selling author is also organizing a fundraising weekend in New Bern, North Carolina for the weekend of April 20, where Sparks will hold fundraising events and screen the film for the attendees. All proceeds will go to various charities, including the Wounded Warriors Project.
PHOTOS: Other Book-to-Film Adaptations
Who's to argue with either Harper Lee, or the President of the United States? Lee's extraordinary novel of racial politics still shocks and moves on the page; the movie features an Academy Award-winning performance by Gregory Peck as the lawyer trying to save a small-town life.

To your flock - and your children's book - be true! Dick King-Smith's charming novel about a super-loyal pig got the 'Hollywood' treatment in 1995 (though it was actually filmed in New South Wales, Australia, and then dubbed into 'American'). That it lost to "Braveheart" for Best Picture really burned our bacon.

Adapted from the Stephen King novella "Rita Hayworth and Shawshank Redemption," this Tim Robbins-Morgan Freeman prison-break movie has become a cult classic, and shows up on everyone's top movies list - including ours.

This 'almost-impossible-to-believe-he-did it' French language memoir by Jean-Dominique Bauby, about his locked-in syndrome post-stroke (he 'wrote' the book by blinking his left eyelid), was vividly brought to life on screen by director Julian Schnabel in 2007.

Michael Ondaatje's searing Booker-winning novel about the end of World War II warped screens when it appeared in movie theaters in 1996 - and with a cast that included Ralph Fiennes, Kristin Scott Thomas, Juliette Binoche, and Colin Firth, we barely knew who to swoon at first.

To say Chuck Palahniuk's brutal-brilliant novel was about amateur boxing is like saying Jaws (book and film) was about a big fish. Brad Pitt got to take his shirt off a bunch in the 1999 movie adaptation, though, and for that we remain eternally grateful.

This Dennis Lehane insta-classic, about Dave, Sean, and Jimmy and their lives in Boston, MA, had every reader on the edge of their seat; then came Tim Robbins, Kevin Bacon, and Sean Penn to bring them to life (Robbins won best supporting role at the Oscars, and Penn took the big one).

The first of two Jane Austen novels on our list, "Sense and Sensibility" follows the love lives of Mrs. Dashwood's three fatherless daughters, and Ang Lee's adaptation in 1995 had a cast to die for: Emma Thompson, Hugh Grant, Alan Rickman, Kate Winslet, to name a few.

William Styron pretty much invented a phrase for when you're faced with an impossible choice with his soul-chilling novel about Sophie, her two children, and Auschwitz. It wasn't even close when Meryl Streep won Best Actress at the Academy Awards; Kevin Kline and Peter MacNicol weren't half bad either.

Bernstein and Woodward, the Watergate break-in, 'Deepthroat,' and the impeachment of a president: the original reporting won a Pulitzer (oh, and it changed a country, too); the book continues to be read slack-jawed 40 years later; and the movie, starring Robert Redford and Dustin Hoffman as the campaigning journalists, won a slew of Academy Awards.

From Presidents to Kings -- the story of the corruption of Willie Stark brought Robert Penn Warren a Pulitzer Prize in 1947. The movie, two years later, garnered three Academy Awards including Best Picture, and Best Actor (Broderick Crawford). (The remake in 1996, starring Sean Penn, Jude Law, Kate Winslett, Mark Ruffalo, and even James Gandolfini, was pretty close to a turkey, despite the talent on offer.)

The story of a Catholic nun in Angola - not the African country, but the site of the Louisiana State Penitentiary - and the death penalty she fought to end. Sister Helen Prejean's powerful memoir about her work behind bars was brought to tear-jerking life by Tim Robbins in 1995, and starred his then-wife Susan Sarandon, and Sean Penn, who seems to appear in every book-to-movie adaptation ever made.

Our second Jane Austen - this time, the story of spoiled title heroine "Emma" (Woodhouse) and her convoluted love for Mr. Knightley - was, for the 1995 movie starring Alicia Silverstone, given a re-vamp from its 19th-century setting and dropped into affluent, 20th-century Beverly Hills.

More high-school shenanigans, this time via undercover scribe Cameron Crowe, who spent a year pretending to be a student at Clairemont High School in San Diego. The movie of his book (currently out of print) starred - you guessed it - Sean Penn, a young Nicholas Cage, and Phoebe Cates sans her bikini top.

Not just a great soundtrack, few moviegoers realized that the Coen Brothers' rollicking tale of chaingang escapees (including George Clooney and John Turturro) was loosely based on Homer's "Odyssey." (Sadly, bluegrass hadn't been invented in ancient Greece, otherwise students around the world might be a bit more happy to study it.)

One of the few movies that directly nodded to its literary origins in the title, this critically-beloved 2009 flick is called, "Precious: Based on the Novel 'Push' by Sapphire." Penname of Romona Lofton, 'Sapphire's' account of incest and abuse was stirringly brought to life thanks to the production monies of Oprah Winfrey and Tyler Perry - and, made a star of Gabourey Sidibe as Claireece 'Precious' Jones.

Danny Boyle's surprise Academy Award runaway prize winner - it only lost in two of ten categories in which it appeared at the 2009 Oscar ceremony - was based on a genre-making novel by Vikas Swarup called Q&A.

Russell Banks intensely sad novel, (based as it was on a real bus crash in Alton, Texas, in 1989, and the subsequent rush to sue and blame), was transposed to rural Canada in Atom Egoyan's three-hanky adaptation starring genius Brit actor Ian Holm.

Our second Danny Boyle pick (he's the Sean Penn of directors - his movie adaptation of Aron Ralston's "Between a Rock and a Hard Place" was pretty darned strong, too) brings to comically-sickening life Irvine Welsh's novel about a bunch of heroin-addicts in Edinburgh, Scotland. Despite the broad accents - and with Welsh himself appearing alongside Ewan McGregor (Welsh played a drug dealer) - the movie became a cult classic, so far grossing a staggering $72 million worldwide (that'll buy you a lot of smack).

She wrote and drew the books (Persepolis, and Persepolis 2); she co-directed the movie; what didn't she do? Marjane Satrapi's autobiographical account of life in Iran pre- and post-the Islamic Revolution became an Oscar-nominated hit when it made it to the big screen in 2007.