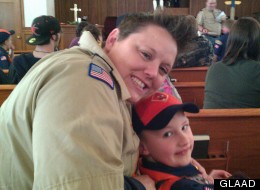 A Boy Scouts den mother is speaking out after being ousted from her role because she is a lesbian.
The Gay & Lesbian Alliance Against Defamation (GLAAD) is speaking out in support of Ohio resident Jennifer Tyrrell, who was forced to resign last week as den leader of her son's Tiger Scout chapter due to her sexual orientation.
Tyrrell says she assumed the role of den leader -- a post she held for over a year -- after registering her son for the Boy Scouts last year. "Throughout the year, my cubs performed volunteer service at a local soup kitchen, collected canned goods for area churches to distribute in food baskets, participated in bell-ringing for the Salvation Army, and, at the time of my removal, were working on a conservation project for a state park," she said in a GLAAD statement. "The revocation of my membership came shortly after I was elected treasurer of my pack and uncovered some inconsistencies in the pack's finances."
She continued, "Within a week of reporting these findings to the council, I received notice that my membership had been revoked, based on my sexual orientation, citing that due to being gay, I did 'not meet the high standards of membership that the [Boy Scouts of America] seeks.'"
A petition in support of Tyrrell has been launched, and has thus far drawn just under 500 signatures. In addition, as WTOV-TV reported, a group of parents gathered in front of a local church Tuesday in an effort to show other scout leaders that they did not approve of the decision. "There was an outcry of support for me by the parents of my Tiger Scouts, many of whom waited for hours to voice their concerns to members of the council and the pack's charter organization, but were turned away without the opportunity to do so," Tyrrell noted in the petition.
Boy Scouts officials nonetheless defended the decision. "We do not grant membership to individuals who are open or avow homosexuals." Bob Drury, a scout executive for the Ohio River Valley, told WTOV-TV. "The mission of the Boy Scouts of America is to develop a character and leadership skills and [for] the youth of today to become the leaders of tomorrow. And anything that distracts from that mission, distracts from what our program is."
Though this is hardly the first time the Boy Scouts have gotten embroiled in LGBT matters, GLAAD President Herdon Graddick noted in a press release: "The Boy Scouts of America is one of the only cultural institutions to
categorically discriminate against LGBT Americans. Sending the message to America's youth that they or their parents are somehow less than everyone else is dangerous, inaccurate and should be changed immediately."
You can view the petition in support of Tyrrell here.
Take a look at other cases of employees being dismissed for being LGBT below:

LGBT Discrimination In The Workplace
A Missouri-based gay music teacher at an area Catholic school was recently dismissed from his job after authorities learned of his plans to wed his male partner of 20 years in New York. Al Fischer was reportedly fired Feb. 17, 2012 from St. Ann Catholic School in north St. Louis County, where he'd worked for four years. Fischer did not comment directly about his dismissal, but instead referred to an email sent to his students' parents after he was terminated. "A family conversation about whether or not justice was served here could be a great thing," he wrote. "I do not want the lesson from this for the kids to be, 'Keep your mouth shut, hide who you are or what you think if it will get you in trouble.'" Fischer's partner, Charlie Robin, told the paper that the couple's relationship was not a secret at the school, and that Fischer was only fired after a representative of the St. Louis Archdiocese overheard him talking to co-workers about his wedding plans. Read the full story here.