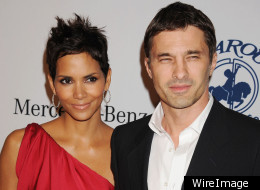 Does Heidi Klum have a new hunk in her life?
Just days after soon-to-be ex husband Seal was photographed giving Aussie singer Delta Goodrem a kiss, Klum was caught getting cozy with Thomas Hayo, a 49-year-old ad exec who serves as a judge with Klum on "Germany's Next Top Model."
Hayo, who has reportedly known Klum for years, is pretty handsome -- and clearly touchy-feely -- but we can't say with certainty that he's the hunkiest hunk a celebrity has ever dated post-split, so we're taking it to a vote. Click through the slideshow to rate our list of ridiculously good-looking rebounds.
After two failed marriages and a bad breakup with her daughter's father, Gabriel Aubry, Halle Berry seems to have found happiness with French hunk Olivier Martinez. Earlier this month, the 46-year-old actor confirmed reports that he and Berry were engaged. "Yes, of course it's true," he told The Miami Herald in a sexy French accent. (Okay, we added that last part.)

Months after splitting from funnyman Russell Brand, Katy Perry was spotted getting cozy with French model Baptise Giabiconi after meeting him at Paris Fashion Week in early March. That same month, the 22-year-old model tweeted a photo of himself with Perry, including this sweet message to the singer: @katyperry hey my #littlekats u look So amazing in this pics !:) ❤"

After splitting from music exec Jordan Bratman in October 2010, Christina Aguilera began dating Matthew Rutler, a set assistant on her 2010 film "Burlesque." More than a year later, they're still going strong.

In photos posted by the Daily Mail, handsome Hayo can barely keep his eyes off Klum, who filed to divorce husband Seal in April. Does Hayo's adoration make him extra hunky?

Months after calling it quits with Marc Anthony, Jennifer Lopez took up with backup dancer Casper Smart, who was then 24. When her boytoy turned 25, J.Lo showed her love with a customized white Dodge Ram truck.

At 24, Madonna's latest beau, dancer Brahim Zaibat, is a hunk just under half her age. But the Material Girl swears she didn't plan it that way. "I didn't, like, write down on a piece of paper I'm now going to have a relationship with a younger man. That's just what happened," the 53-year-old told "20/20" in January Earlier this month, it was reported that Zaibat had proposed to the pop icon. Madge was said to have been "making up her mind" as to whether or not she would accept.

Camille Grammer ably summed up the appeal of Dimitri Charalambopoulos, the attorney she started dating in fall 2011, after splitting from Kelsey Grammer. "He's tall, 6'2", dark, handsome," the "Real Housewives of Beverly Hills" star told E! Online in November 2011. "He loves to cook. I call him my Greek god."