When the news broke on Wednesday afternoon that Dick Clark had died, one website got a little confused on Twitter.
Byliner, a website that bills itself as a discovery engine to help people find good works of fiction and non-fiction, accidentally tweeted that former Vice President Dick Cheney had died, along with a link to a story about Cheney: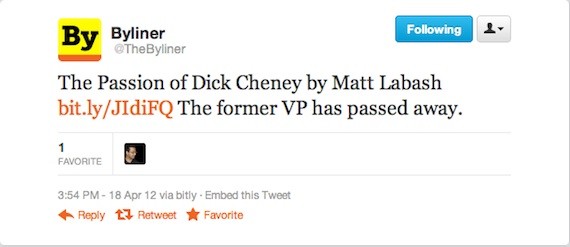 Cheney, of course, has had his share of health problems. Last month, Cheney had a heart transplant. He made his first public appearance since the procedure last weekend.
After many retweets and comments about the incorrect tweet, Byliner deleted the tweet and 11 minutes later tweeted a correction:
ALSO ON HUFFPOST:
PHOTO GALLERIES
Dick Clark Dies: Journalists React To Dick Clark's Death