When it comes to putting clothes away, most of us feel like we could definitely use a little more closet space. That's why we were thrilled when we came across this clever solution by blogger Donna of Funky Junk Interiors. Tired of seeing her things unceremoniously strewn about her bedroom, she decided to create this unique closet wall perfect for keeping clothes, jewelry and accessories all in one place. It's a great way to get organized. While this technique could be used on any plain wall, we think the reclaimed wood treatment adds incredible style. Ready to get started? Just keep reading for the deceptively simple how-to.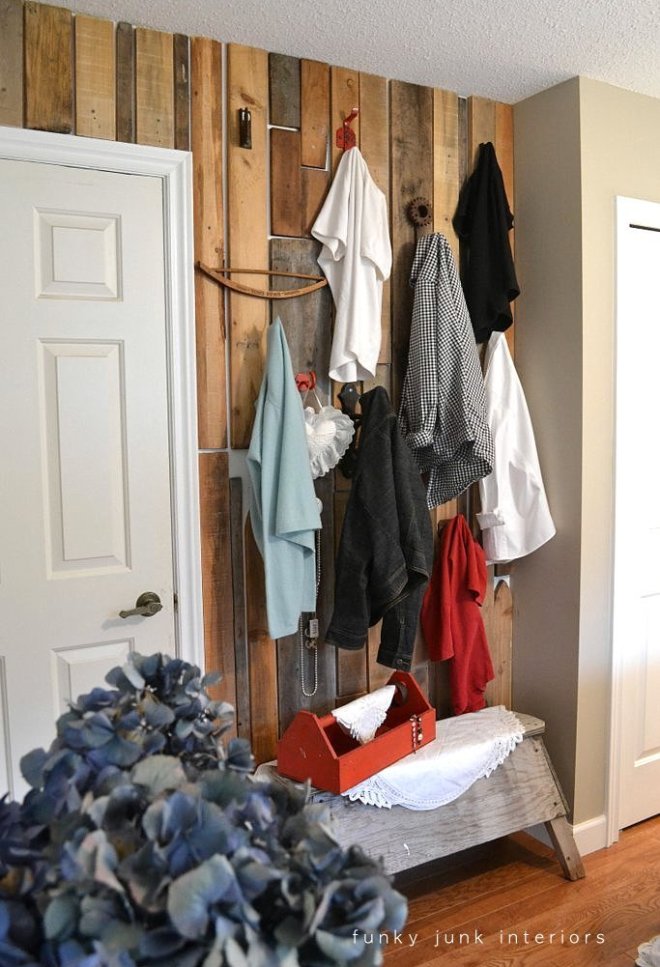 Photo by Donna of Funky Junk Interiors
Not much is needed for this project -- just some mismatched wood pallets, a drill, a level and some wall hooks. First, decide how many pieces of wood you need to cover your wall. It might help to lay your pieces out on the floor to see how you want them to fit together. Then, screw each board in place with a cordless drill, using a level to make sure your pieces are straight. Next, mark where you want to place your hooks and secure them using your drill. When you are done, all that's left to do is to hang everything back up. It's an easy way to make you feel instantly more organized.
For the full tutorial, visit Funky Junk Interiors.