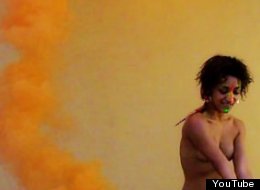 The Flaming Lips featuring New Fumes released a video for their track "Girl, You're So Weird." The track is off the Lips' upcoming collaboration album, The Flaming Lips and Heady Fwends, set to release on Record Store Day.
"Girl, You're So Weird" features two gorgeous ladies spraying cans of colored smoke and glitter, then prancing around a small room with Daniel Huffman and Wayne Coyne. The musicians accept the women's antics while catatonically performing the song on the ground or gazing intensely into the lasers bouncing off the walls.
The video is mostly innocent; just some naked people having fun with lights, a disco ball and presumably copious amounts of drugs. But it is pretty graphic (no shortage of breasts) and just downright squeamish at some points (what is that exactly at 00:56!?).
The Flaming Lips and Heady Fwends is set to release April 21 on multicolored vinyl with a limited amount containing some of the collaborator's blood. Yeah, their blood.
Watch below for "Girl, You're So Weird" (NSFW):