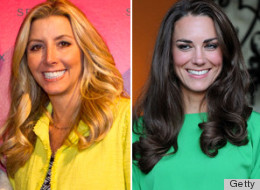 TIME magazine just released its annual list of the 100 most influential people in the world (the WHOLE WORLD!), but the sartorially savvy will note that the rankings aren't too friendly to fashion folks.
A fabulous foursome of stylish ladies, though, DID make the cut, and we're loving that celebrities penned two of the entries on them.
Sarah Jessica Parker writes the entry on Sarah Burton, writing that the designer who filled Alexander McQueen's shoes at his eponymous label "did the undoable... a royal wedding dress that could never live up to the impossible dream. But it did."
And Katie Couric wrote about Sara Blakeley, the founder of Spanx (and one of our personal heroes). Couric 'fesses to wearing Spanx herself -- and notes that Blakeley started her now billion-dollar business with just $5,000.
Finally, a pair of sisters whom you may have heard of made the cut. Catherine and Pippa Middleton entered the list as a unit, and TIME seems to have lumped them together as one and the same when it comes to both fashion and... body type? As TIME's Europe editor Catherine Mayer raves:
"The Middletons have become avatars of aspiration. Other women aim to dress like them, to emulate their easy athleticism and their more problematic slenderness."
Of course, making lists is nothing new for Kate, who also recently took home "Best Mannered Person of 2011," Harper's Bazaar's Best Dressed of 2011, People's "Most Intriguing of 2011" (along with hubby William) and our personal favorite: "Hat Person of the Year." Pippa, however, sadly placed runner-up in last year's Rear of the Year showdown.
Other stylish people who made the list: Vogue cover girl Adele, scrunchie stalwart Hillary Clinton and actresses Viola Davis, Jessica Chastain and Claire Danes. Snubbed were Jessica Simpson and Rodarte designers Laura and Kate Mulleavy, whom TIME presented as nominees back in March.
See the full list of TIME 100 winners here.
Take a look back at the Top 11 Fashion Moments of 2011:
John Galliano's overnight toppling from fashion royalty was the scandal that jarred the international fashion world this year. After helming Givenchy then Christian Dior--along with his own fashion label--Galliano seemed on top of the fashion empire, waving a golden scepter with his quirky outfits and innovative runway looks. But the designer stunned the world when he was caught on video drunkenly telling a group of Italian women at a Parisian bar, "I love Hitler... People like you would be dead. Your mothers, your forefathers would all be f**king gassed." (A woman had even previously filed a complaint against Galliano for making anti-Semitic remarks in the same bar in 2010.) Some celebrities immediately denounced Galliano and his remarks, while others, like longtime friend Patricia Field, defended him, interpreting his out-of-character comments as a type of "theater." But few authorities lept to Galliano's defense. In March, Dior dismissed the designer from his creative director duties, and a Parisian trial that spanned the summer months found Galliano guilty of making anti-Semitic remarks and ordered him to pay a fine of 6,000 euros. Dior has remained without a director since February; rumors that Marc Jacobs might step in to replace Galliano fell through, and as 2011 fades, Dior remains unhelmed. It seems regardless of what Galliano intended with his remarks, he'll never be able to regain his reputation as one of fashion's most respected innovators.

Almost 23 million Americans -- and a rumored 2 billion worldwide viewers -- turned on their TVs and computers on April 29 to watch Prince William marry longtime girlfriend Catherine Middleton in a traditional ceremony at Westminster Abbey. Wills and Kate, who met at St. Andrews University, announced their engagement on November 16, 2010, and the very first photos of Middleton wearing the late Princess Diana's ring were enough to start a hounding media and gossip watch, setting off a frenzy of rumors and buzz in advance of the April wedding. Most centered around which lucky designer would get to design Kate's dress. At the ceremony itself, the outlandish hats obstructed many a view as women seemed to compete for who donned the tallest, craziest fascinators. And then there was Princess Beatrice's famous spaghetti-esque hat, which we dubbed the "worst ever." Kate's iconic long-sleeved Alexander McQueen gown was fiercely -- and amazingly! -- kept secret until the bride stepped out of her car. The legendary gown spurred the creation of budget knockoffs, doll effigies and even dog costumes. The royal wedding also introduced Pippa Middleton (in that curve-hugging maid of honor dress) to the world, and from that day on cameras would chase the royal sis around London, documenting her every move and outfit as gossip mags turned their spotlights on her love life. The newly christened Duke and Duchess of Cambridge sealed their nuptial union on April 29, but they also galvanized a new, worldwide interest in royal style that will surely be preserved in the annals of history.

Fashion has always accepted the idea that beauty comes in every shape and form, and luckily, mainstream culture seemed to finally catch up this year as designers and models continued to play with and challenge traditional ideas of gender. 2011 was definitely a breakthrough year for Andrej Pejic, the 20-year-old Australian male model noted for his extreme androgyny. Although some people didn't seem to know what to do with Pejic's stunning looks -- like when Barnes and Noble censored his topless mag cover -- Pejic still landed a handful of notable gigs: He met the Queen, was named Out's Stylemaker of the Year and elected to FHM's "100 Sexiest Women" list (a move some naysayers didn't like too much). But Andrej, who posed as both Marilyn Monroe and a bride, doesn't seem to be letting too many (overly?) narrow definitions of beauty sabotage his modeling world takeover. Another fresh face on the runways this year was transgender model Lea T, born Leandro Cerezo in 1981. She soared to new editorial heights, taking part in shoots for Vogue Paris, Hercules Magazine, Interview Magazine, Cover Magazine and Love Magazine. In June, she posed for a swimsuit spread and walked the runways in a bikini in Sao Paulo. She even landed her first major mag covered this November, wearing Givenchy for Elle Brasil.

America's love affair with Jennifer Aniston's hair started with the 1992 premiere of "Friends," a staggeringly popular NBC sitcom that tracked the lives of young New Yorkers and their platonic bonds in the big city. Aniston played Rachel, a lovably ditzy waitress whose layered, highlighted brown bob -- created by Jen's favorite hairdresser Chris McMillian -- was such a hairdo hit that it became an eponymous way for women around the world to copy it, by asking their stylists for "the Rachel." By the mid-'90s, it seemed everyone's hair had the same chunky highlights and wispy ends. Jen grew out her straight mane to various lengths for most of the 2000s. But in February of this year, McMillan once again picked up the scissors and snipped the actress' long locks into the trim heard around the world. On February 21 at the German premiere of her movie "Just Go With It," Jen showed off her usual straight, long hair. But at the Madrid premiere the very next day, we instantly noticed the actress had gotten a huge chop job. McMillan called Jen's new do a hairline bob, because it followed the jaw down: "It's shortened in back and longer in front. It's angled and inspired by Vidal Sassoon haircuts and Julie Christie from 'Shampoo'," he told Allure. And if it wasn't clear enough that Aniston was trying to distance herself from her '90s hair, she went on record disparaging "The Rachel" cut, telling Allure: "I think it was the ugliest haircut I've ever seen." Talk about biting the hand that cuts your hair. We're glad Jen and Chris have stayed friends -- and muses.

True to form, Beyonce's baby bump debut in August was nothing but class. Rather than tweeting effusively or posing for a potentially gauche tabloid spread, Bey announced her pregnancy to the world with fashion. When the singer took to the red carpet at the MTV Video Music Awards in 2011, her orange Lanvin dress made sure all eyes were focused on her. But it was more than the dress that sent onlookers reaching for their smartphones; Beyonce was cradling her budding baby bump. As the awards ceremony ticked on, we got to see Beyonce performing her hit "Love On Top" in chic maternity D&G menswear as the camera cut to a beaming, emotional Jay-Z. Oh, fine: we were wiping away tears a little, too. Babyonce is due in February 2012, but Bey's pregnancy clothes surely made 2011 one of the hottest years for maternity style. We can't wait to see how styles her new tot, too.

The style world has always embraced the ideal of youth, but with the rise of pint-sized fashion icons, it seemed 2011 was the year of the teen. Hailee Steinfeld, 14, shot to fame with her role in "Grit," which earned her an Academy Award nomination before she was even old enough to drive. Since then, Steinfeld took the fashion scene by storm while wearing the coolest in couture. She then became the poster girl for Miu Miu -- not a shabby gig for someone barely out of junior high. Dakota Fanning's 13-year-old sister Elle also shot to fame with an acting and modeling career of her own, starring in movies like "Somewhere" and "Super 8" and landing plum modeling gigs, like shooting for Marc by Marc Jacobs. The sisters recently graced the cover of December's W magazine together: no sibling rivalries here. Chloe Moretz, 14, starred in "Kick-Ass" and is already hitting the swankiest parties in Hollywood. She also landed December's Teen Vogue cover, which makes, well, perfect sense. But the preternatural rise of young starlets hasn't been without controversy: when all three girls appeared together for LOVE Magazine, the photographer had them staring menacingly -- and sometimes sadly -- into the camera, provoking the question of whether the teens were growing up too fast. In November, Britain's famously pearl-clutching ASA banned Hailee's Miu Miu ad because Steinfeld was pictured sitting on railroad tracks -- an act they determined promoted risky, unsafe behavior.

Selecting one look to win Best-Dressed of 2011 was quite the chore for us, but in the end, Gwyneth Paltrow takes home the honor for her elegant Oscars gown. In a gilded gold Calvin Klein sheath, Paltrow looked like an Academy Awards statue incarnate, especially with her long blonde hair ironed straight. She accentuated the dress with a Louis Vuitton brooch and earrings to keep the look interesting. The Brian Atwood shoes? Gold, of course. Stunning. Even in flip-flops and no makeup.

2011 was perhaps the most notable year for the late Alexander McQueen. The world was stunned on February 12th 2010 when news of McQueen's death broke. The beloved designer, 40, had committed suicide and was found dead in his London home. But even in the wake of McQueen's tragic end, his fashion powerhouse churned along. Sarah Burton was named head designer, and just over a year later, his line would land a huge -- the hugest possible?-- bridal gig: In April, Kate Middleton wore a Sarah Burton for Alexander McQueen design, the now impossibly-famous long-sleeved wedding gown, to marry Prince William as the world looked on. The dress is now memorialized at Buckingham Palace. Just a few days later came the May 2nd debut of the exhibit "Savage Beauty" at the Metropolitan Museum of Art in New York, which celebrated McQueen's contributions and legacy in the world of couture. Featuring video, art and a melange of amazing clothes, "Beauty" honored McQueen innovations like the "bumster" trouser, the kimono jacket, and the three-point "origami" frockcoat. The exhibit drew insanely long lines -- we waited upwards of two hours to get in, ourselves -- and became one of the top 10 most visited show in the Met's history. It moved on to London, where it also created enormous queues. Alexander, we hope you're somewhere smiling down on the amazing year -- and years to come -- your legacy left on earth. May you rest in peace.

Emma Watson. Blake Lively. Diane Kruger. Kate Bosworth. Even the most stylish of party girls has to fear overexposure: that dreaded condition where attending too many events in too many wow-worthy outfits leads to onetime fans doing yawns instead. Emma Watson was once the epitome of chic -- even Princess Beatrice paid a huge sum of money to hire Emma's stylist to dress her. But it seems that the release of the final "Harry Potter" movie in July -- and perhaps the concurring glut of "Potter" press-- signaled the end of Watson's reign as style princess. Similarly, Blake Lively, who was once at the helm of "Gossip Girl"'s colossal style influence, saw her fashion fanbase taper off along with the CW show's ratings. Another crop of blondes whom we once adored -- Mia Wasikowska, Diane Kruger, and Kate Bosworth-- went from wowing us on many a red carpet to making us think "meh" when we saw them in stilettos for the billionth time. Let it be a lesson learned, aspiring style muses: less is more.

While traditional designers still held rank and file in 2011 (Jason Wu, Prabal Gurung, Marc Jacobs), this year also catapulted celebrities into the role of fashion creators, for better or for worse. Jessica Simpson became a billionaire -- yup, that's with a "B" -- from her sprawling fashion empire, which, after a busy 2011, now includes fragrance, shoes, handbags, hair and beauty products, hair extensions, and clothing. Now that Jess is closing out 2011 with a baby on the way, maybe she'll be taking a break from her entrepreneurial ways to spend time with her new tot. Another fashion powerhouse this year was the House of Kardashian. Kourtney, Khloe and Kim kollaborated with pretty much anyone who would agree to hawk their fragrances or let them star in commercials. in 2010, the Kardashian clan made a whopping $65 million, and this year they chugged along with their merchandise train, which included a major collab with Sears to shill Kardashian clothing. Now that actresses -- er, reality show personalities -- are nabbing clothing lines and earning namesake fragrances, is America valuing the work of traditional fashion designers less? Or maybe it's simply a matter of budget and availability: the average person can get her hands on a $35 Kardashian Kollection dress from Sears than a $600 Jason Wu dress. We anticipate that the boundaries between designers and celebrities will dissipate even more in 2012.

Lady Gaga's been making style headlines since 2008, but it was her transportation choice that turned heads at the 2011 Grammys. Gaga treated the Grammys, which took place in February, like private performance art. Cue her arrival on the red carpet encased in a giant egg, which was carried on poles by stoic handlers. Inside, Gaga "hatched" from the egg onstage, slinking her way out to sing, naturally, "Born This Way," in a plastic-looking yellow dress that resembled a lasagna noodle. But lest you think Gaga really suffered for her style, fear not: the egg reportedly contained an oxygen tank.