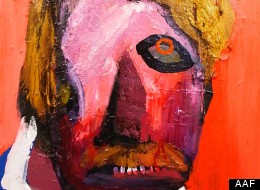 If you thought art collecting was up there with yachting, cufflink collecting and other activities for the 1%... think again!
The Annual Spring Affordable Art Fair returns to NYC for its 11th year, full of emerging and exciting artworks that can bring joy to your mega-mansion or your closet-sized apartment. You don't need to be an art collector to appreciate art, and if anywhere brings this motto to life it is the hustling, bustling diverse art capital of the world: New York City.
The Affordable Art Fair's ethos has proved contagious, spreading feverishly throughout 11 cities in its 11 year history. The fair features 75 international and national exhibitors presenting multimedia works from $100 - $10,000 (with half of the work under $5,000). It is a fair that says "art is for everyone" and really means it.
The Affordable Art Fair runs from April 19-22, 2012.
Check out a sample of the diverse and delicious works below:
Anna Barlow Mr Much Too Much, 2011 Porcelain and earthenware 10 x 10 in $1,650 Bicha Gallery April 2012

Marie Danielle Leblanc Annoncion #1, 2011 $800 Elisa Contemporary Art Riverdale, NY

Brooke Shaden In and of Earth, 2012 Photograph 10 x 10 in $450 JoAnne Artman Gallery

Albert Delamour Wonderland 6, 2012 $1,000 Living with Art New York, NY

Dom Pattinson Et Voila, 2012 Acrylic on canvas 37 x 55 in $4,900 Turner Barnes Gallery

Amy Elkins Adam Princeton, NJ, 2010

Yuhi Hasegawa Untitled, 2012

Amy Stein, In Between

Cept One More Tomorrow, 2011 Screenprint, edition of 100 23 x 23 in $260 Arch402 Gallery

Ivar Theorin Untitled (Ram), 2011
Affordable Art Fair Spring 2011 NYC from Affordable Art Fair on Vimeo.