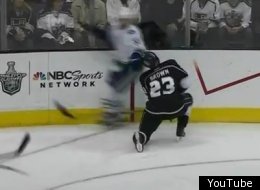 The extremely physical and downright dirty plays of the 2012 NHL postseason continued on Wednesday night in Game 4 of the Canucks-Kings series when Vancouver's Henrik Sedin delivered a cheap shot to Dustin Brown's head.
Both Sedin twins were both getting chippy with Brown in the middle of the second period. Perhaps in retaliation to when Brown crushed Henrik (legally) in Game 3, the Canucks' captain blindsided Brown with an elbow after the Kings' player had gone down to a knee. Sedin then followed up with a swipe with his left glove and knocked Brown back on to the ice.
No penalty was called but both announcers seemed convinced that the play will be reviewed by NHL senior vice president of player safety Brendan Shanahan, who has been quite busy throughout these playoffs.
Earlier this week, Shanahan suspended Carl Hagelin of the New York Rangers for three games for his elbow to the head on Ottawa Senators captain Daniel Alfredsson in Game 2.
Shanahan also docked Washington's Nicklas Backstrom one game for a cross-check at the end of Game 3 and suspended Phoenix Coyotes forward Raffi Torres indefinitely for leaving his feet and obliterating Chicago's Marian Hossa. The Blackhawks winger had to be taken off the ice on a stretcher.