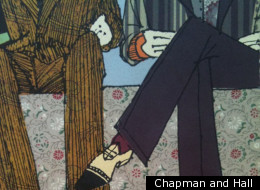 By Daniel Lefferts for Bookish:
Billy Abbott, the protagonist of John Irving's much-anticipated upcoming novel, "In One Person," (out on May 8) has a decision to make. Miss Frost, his burning librarian crush, or Kittredge, the spry, charismatic wrestler? Meanwhile, he's struggling with his bisexual identity in a world that still treats heterosexuality as normative.
From Mrs. Dalloway to Top Ripley, here are seven literary characters who fall in love with both men and women.
For more from Bookish, click here!
Correction: the original version of this piece contained language that could be considered offensive. We have attempted to address this by changing the vocabulary and tone of the piece. We apologize for any offense caused.
"In One Person," John Irving Billy Abbott's sexual desire moves like the needle on a Richter scale: rambling, shifting, inconsistent, but never quiet. The novel opens with an ode to Miss Frost, an adult librarian who encouraged Billy, in his early teens, to become a writer, and, more impactfully, became the focal point of his obsessive pubescent desire. But in his later teens, he moves on to Kittredge: an Adonis-like wrestler at his high school with a mean streak and mommy issues. As Billy matures into adulthood, Irving paints a wise and wry picture of bisexuality as compulsive attraction to both men and women, instead of any profligate reluctance to choose.

"The Corrections," Jonathan Franzen Her mother is a judgmental pill-addict; her brothers are broke and depressed; her father is losing his mind. Denise Lambert is the youngest in her family and seems on the surface like its most self-sufficient member. But the thirty-two year-old star chef has an out-of-control (and not-so-discriminate) sexual appetite, one that leads her to first sleep with her boss's wife, Robin, and then her boss, Brian. As she sneaks back and forth between the spouses, it becomes clear that her sexual indecision is also a way of navigating her own split personalities. "Whenever she was with Brian she would pine for Robin's...sincerity and good works and be repelled by Brian's smug coolness. But whenever she was with Robin she would pine for Brian's good taste and like-mindedness." Correction: An earlier version of this story stated that Denise slept with Brian and then Robin, which is the incorrect order.

"Brideshead Revisited," Evelyn Waugh Charles Ryder steps from his middle-class upbringing into the luminous world of late aristocracy when he visits an Oxford University classmate, Sebastian Flyte, at his family's mammoth country estate in the summer of 1923. Buzzed on fine wine and dazzled by an art collection worthy of the Tate, Ryder falls easily for Sebastian's flirtations. But Sebastian's sister, Julia, is equally seductive, and when Ryder joins the family on a vacation to Italy, he indulges in some sultry sibling-swapping that, before long, balloons into a full-blown scandal.

"The Stranger's Child," Alan Hollingurst This recent novel from Booker Prize-winner Alan Hollingurst takes Waugh's novel as its inspiration. Once again, a university classmate visits a brother in the sister, this time in the summer of 1913. But in a twist, it's the interloper, Cecil Valance, who enchants the siblings, George and Daphne Sawle, with his eloquence and aristocratic upbringing. And when Valance leaves behind a poem addressed ambiguously to both, the siblings are left to decide amongst themselves whose affection he was really out to win.

"The Talented Mr. Ripley," Patricia Highsmith One of literature's most famous sociopaths has, in fact, no shortage of romantic desires. New York newcomer Tom Ripley his eyes set on rubbing elbows and clinking champagne flutes with Manhattan's finest--and his new friend, the wealthy and charismatic Dickie Greenleaf, is his way in. But Ripley finds that his affections are split evenly between Dickie and Dickie's soft-spoken wife, Marge. Ripley increasingly resents Dickie's harsh treatment of Marge, but it's ultimately Dickie's rejection of him, after overt flirtations, that really pushes Ripley over the edge.

"Mrs. Dalloway," Virginia Woolf Clarissa Dalloway has every reason to be in good spirits: she and her husband Richard are throwing one of their renowned parties at their elegant home in West London, and a horde of blueblood socialites are in attendance. But one guest in particular is rattling Mrs. D's nerves: an old family friend, and secret love interest, from her teenage years, Sally Seton. Sally spent summers with Clarissa's family at their summer home years ago, and made a lasting impression on the clan by shattering their notions of polite femininity. Fastidious, ladylike Clarissa was dazzled by Sally's brash self-possession--and the feeling lingers into middle age. The question is what will happen when she and Sally--now married with five children--come face-to-face decades after losing touch.

"The Mysteries of Pittsburgh," Michael Chabon For the protagonist of Michael Chabon's debut novel, it's postgrad boredom that breeds sexual oversampling. In the first few months of adulthood, Art Bechstein manages to become involved with his best friend's insecure girlfriend, Phlox Lombardi and, at the same time, her confident and graceful gay friend, Arthur Lecomte. Bechstein finds solace in one relationship and security in the other, but for the most part he's following no guiding principle outside his unchecked desire. Chabon's treatment of Bechstein's sexual awakening is frank to say the least, and for a time, earned him a (false) designation as a gay writer.