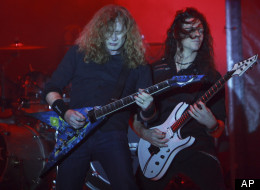 It turns out that the the "too crazy to be true" Craigslist "missed connection" ad -- supposedly written by a woman searching for the father of her unborn child, whom they conceived in the bathroom at a Chicago Megadeth concert -- was, in fact, too crazy to be true.
Fuse has identified and interviewed the author of the "Did we hook up at the Megadeth/Motorhead concert? - w4m - 28 (Aragon Ballroom)" Craigslist posting gone viral: a 23-year-old Kansas woman who told the network that the whole thing was a joke to "make this boy laugh."
The woman -- who wanted to be referred to as "Crash" apparently to protect her job -- said she crafted the graphically detailed ad out of boredom, but that, based on the responses she receive to the posting, she is "pretty sure there were people banging at that concert," noting "I may not be pregnant, but someone is. There's no way there weren't a few accidental pregnancies. I'm anticipating the world's greatest Maury episode."
The ad's original text described, in GRAPHIC detail, a bathroom encounter between a woman and a fellow, in-the-mood heavy metal fan.
Craigslist is no stranger to somewhat bizarre requests, including matching kidney donors with recipients and a woman looking for a man to help raise her child.