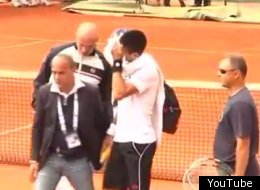 Hours before playing his third-round match against Alexander Dolgopolov at the Monte Carlo Open on Thursday, Novak Djokvic received the heartbreaking news that his beloved grandfather had passed away. The world's No. 1 player walked off the practice court in tears, covering his face with a towel. The emotional moment was broadcast by Canal+.
Given his emotion and the proximity of his match against Dolgopolov, tennis journalist Christopher Clarey wondered if Djokovic would even play. Longtime tennis correspondent for The Times, Neil Harman, felt that Djokovic's emotion would lift his performance.
@NeilHarmanTimes

Neil Harman
A very sad day for Nole. He doted on his grandfather. I sense there will be an even greater vigour in his stride today.
Djokovic played but looked understandably unfocused at the start. But he was able to rally back after losing the first set to win 2-6 6-1 6-4. The world No. 1 burst into tears on the court after the victory.
Neil Harman tweeted that Djokovic did not hold a press conference after the match.
Djokovic lived with his grandfather, Vladimir, in Belgrade when Serbia was bombed for 78 days and nights in 1999.
With the win, the Serbian star advances to the quarterfinals, where he will play the winner of Robin Haase and Thomaz Bellucci.