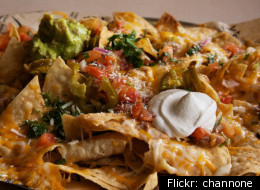 Nachos aren't just reserved for game days and sports bars -- they also make a quick and tasty dinner option. You certainly won't get any complaints when serving this favorite snack for a meal -- rather, you'll get some bonus points for thinking of the great idea. You can make them as nutritious or indulgent as you want, and have them on the table in just 10 minutes.
We're used to seeing nachos as they serve them at the bar -- with melted orange cheese, beans, large slices of jalapeno and maybe some shredded lettuce too. And while they taste just great this way, that's not the only possibility this chip dish can offer. Nachos make a perfect backdrop for many more varied and interesting toppings. This not only means that you can eat them more often without getting tired of them, but also that they're a great vehicle for getting rid of leftovers. Click through the slideshow below for some nacho topping ideas.
What's you're favorite topping for nachos? Leave us a comment below.
Guacamole may seem like a no brainer when it comes to topping these corn chips, but you'd be surprised by how many people forget it. And, it really makes all the difference between good nachos and excellent ones. Get the Guacamole recipe

We love bacon on everything (cupcakes, donuts, burgers) so adding them to nachos is just a natural step. And a little bacon will go a long way in making your chips feel a little bit special. The flavors blend well with all the typical nacho toppings.

Shrimp makes a great addition on nachos, especially when you're looking for a quick dinner but don't want the heaviness that nachos can bring. Grilled shrimp adds a nice smoky flavor, but sautéing them will work great too.

While we're used to getting a chili-type meat on our nachos, sometimes a change is a good thing. And when that change is chorizo, it's always welcome. Scatter sliced chorizo onto your nachos, the flavor will go well with nacho cheese, onions and sour cream.

Move over ground beef, pulled pork is the real star on nachos. If you feasted on barbecue the night before, try to save some for topping corn chips the following night for dinner -- nachos will never be same once you try them this way. Get the Pulled Pork recipe

Don't succumb to the refried beans in a can, they taste infinitely better when you make them at home -- and they're so easy to prepare. You're palate will thank you once you taste them atop your nachos. Get the Easy Refried Beans recipe

Artichoke hearts are always a treat, so why wouldn't we serve them on nachos? We quite like them with spinach and lots of melted cheese, combining our two favorite snack foods: Spinach-artichoke dip and nachos.

The best nachos are the ones that are garnished with fresh cilantro, but sometimes that just isn't enough (surely any true cilantro lover will agree). That's why cilantro pesto just makes sense.

Well, why not? Fried chicken is crispy and good and nachos are crispy and good. Makes sense that they should go together. And if you've only got a couple of drumsticks leftover for dinner, making them a topping is a great way to them stretch.

Why would you resort to store-bought salsa when pico de gallo is so easy to make (and tastes so much better)? All you need are tomatoes, onions, cilantro and jalapeno, and a little bit of knife skills. Get the Pico de Gallo recipe

Take it past the pickled jalapenos, and move onto to giardiniera. These pickled veggies -- a mix of cauliflower, red peppers, carrots, celery and pepperoncini -- add a new dimension to your nachos.

If you want the ease of a quick dinner, but not in the mood for those Mexican flavors, then go Greek. A little feta, some black olives, fresh tomato, red onion and shredded lettuce can make delicious and substantial nachos.

Roasted red peppers are pleasantly sweet and they offer a nice smokiness to your dish. If in a pinch, you can buy jarred peppers, but they're so much better when you roast them yourselves.

There are a lot of hot sauces to choose from, and if you like your nachos spicy you definitely have got some options. But the sweet and complex heat that you get from Sriracha just can't be beat.

We're not suggesting that you forgo the melted orange cheese in place of this potent one, we're recommending that you combine the two. You get the best of both worlds that way -- gooey and creamy nacho cheese as well and strong flavors from a little crumbled blue cheese.

You won't often find eggplant served on top of tortilla chips, but they make a hearty, vegetarian topping. And if you're looking for a little complexity of flavor, opt for caponata; it's sweet and vinegary, and tastes amazing with melted mozzarella. Get the Eggplant Caponata recipe

If you're not the type who loves the ooey-gooey cheese that typically comes with nachos, Manchego might be the way for you to go. This hard cheese will melt in the oven, but not much. It'll taste great with nachos served with fresh greens, tomatoes and onions.

While cilantro is a no brainer when it comes to sprinkling fresh herbs on top of nachos, that's not the only option. Fresh mint, parsley and oregano can really brighten up the flavors -- and we recommend even mixing a few of them together.