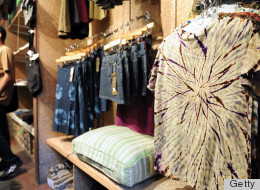 April 20 is upon us again, and the 420 day fashions have not changed. We're talking about the hemp wear pieces, which we know you have stashed somewhere in the back of your closet. If you haven't made -- or bought -- hemp jewelry on spring break, then you haven't truly lived.
Aside from hemp accessories you wore in your teen years, hemp wear has gone mainstream in the realm of sustainable clothing. Eco-friendly lines, including Heather Heron, FEED, Edun and mainstay Stella McCartney, fashion almost any style of outfit or accessory to suit your boho, green-loving needs.
But let's be honest: most still associate hemp and its fashion offspring with stoner culture. So in looking back at this 420 "holiday", we present you with ten hemp wear pieces from yesteryear.
Did you miss any of this?
The hemp purse is always a good choice for picking up groceries and running errands. (Flickr)

In case your outfit is too overdone, you can always drab it down with a hemp necklace. (Flickr)

Blair Waldorf wouldn't be caught dead in this headband. (Flickr)

Sometimes leather is just not cutting it. (Flickr)

The eco-friendly alternative to paper and plastic sandwich bags is a reusable option for taking your lunch on the go. (Flickr)

A comfy alternative to those scuffed up Chucks you've been wearing for years -- looking at you, Kristen Stewart. (Flickr)

If you're going to wear hemp shoes, then you'll definitely need hemp socks to match. (Flickr)

If a hemp purse is not your style, try a hemp messenger bag for the every day commute to work. (Flickr)

No hemp collection would be complete without the classic hemp anklet -- we know you rocked one in middle school. (Flickr)

We have to admit -- it looks pretty comfy. (Flickr)

In case you were wondering...