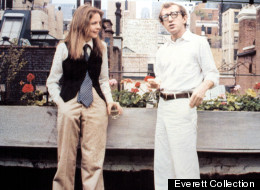 "Annie Hall," Woody Allen's best known (and probably best best) film, was released 35 years ago, on April 20, 1977. The Best Picture winner -- about a romance between a neurotic New Yorker (Allen) and his tie-wearing, Wisconsin-born love (Diane Keaton) -- was a cultural sensation upon its release, and still resonates to this day. Seriously: you can't swing an old-school tennis racket on the streets of New York without hitting some girl or guy who based their entire persona on "Annie Hall."
To celebrate "Annie Hall's" 35th anniversary, HuffPost Entertainment has compiled a list of the best lines from the film not said by Allen's Alvy Singer or Keaton's titular heroine. After all, no one needs another round-up of "Annie's" best moments. (Spoiler alert: it's all of them! The thing's an unparalleled classic, y'all.)
La-di-da, etc.
9. "Yeah, I do. It's for my girlfriend. Make it out to Ralph." - Autograph seeker
8. "He was all schoolyard. They threw him a football once, he tried to dribble it." - Rob (played by Tony Roberts)
7. "Hello? I forgot my mantra." - Party Guest (played by Jeff Goldblum!)
6. "We use a large, vibrating egg." - Old man in the street
5. "Let 'im drop dead! Who needs his business?!" / "His wife has diabetes!" / "Di-diabetes? Is that any excuse? Diabetes?" - Alvy's parents
4. "Uh, I'm very shallow and empty and I have no ideas and nothing interesting to say." / "And I'm exactly the same way." - Couple on the street
3. "I don't get a period! I'm a cartoon character. Can't I be upset once in a while?" - Wicked Witch
2. "Oh, I did Shakespeare in the Park, Max. I got mugged. I was playing Richard the Second and two guys with leather jackets stole my leotard." - Rob
1. "Can I confess something? I tell you this as an artist, I think you'll understand. Sometimes when I'm driving ... on the road at night ... I see two headlights coming toward me. Fast. I have this sudden impulse to turn the wheel quickly, head-on into the oncoming car. I can anticipate the explosion. The sound of shattering glass. The ... flames rising out of the flowing gasoline." - Duane Hall (played by Christopher Walken!)
Before you're due back to Planet Earth, watch Duane open up to Alvy by clicking here. (Darn disabled embedding! Seems like old times and all, right?)
"Annie Hall" and Other Awkward Movie Dates
2001's "Kissing Jessica Stein" briskly rounds up the horrors of dating through a series of bad first encounters. Note to guys: Never act like this on a date.

"When Harry Met Sally" beautifully articulated the potential pit falls of setting your friends up. (Also, Meg Ryan's facial expressions during this dinner are priceless.) But we all know that in this 1988 classic, everything happens for a reason.

If only Jack Donaghy were there to help Tina Fey through her I-want-a-baby-now speech in "Baby Mama." As she says, "It's too much for a first date, isn't it?"

Arguably one of the grossest dates in movie history, this scene in "There's Something About Mary" serves as a reminder that your night out could always be worse.

Winona Ryder has mastered the art of adorable awkwardness in 1994's "Reality Bites." Ladies, take note.

Even though Bill Murray has time on his side, his merry-go-round date with Andie Macdowell always seems to miss the mark. Oh, well. To world peace!

Yes, Dustin Hoffman personified awkwardness in "The Graduate," but can you blame him? At least everything ended up working out for him and Mrs. Robinson's daughter, right?

Natalie Portman might have regained her originality during this scene from "Garden State," but she did so at the expense of Zach Braff's feelings -- and a potential make out sesh.

One sure fire way to ruin a dinner: undermine a doctor and confess to your teacher that you're in love with her.

While we may not all share his macabre point of view, Woody nails the first date jitters in 'Annie Hall."