'Arrested Development' Mashup: Gob's Failed Magic Tricks (VIDEO)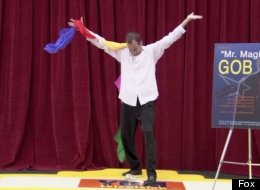 It's hard to control our excitement (and chicken dance urges) now that we've learned that all 10 new episodes of "Arrested Development" will be released on Netflix at once after a decade-long hiatus.
We think they'll be worth the very long wait (the episodes are set to be released in 2013); but in the meanwhile, we've kept our idle "Arrested" hands busy with the best of Gob's (Will Arnett) failed magic tricks right here in the above video mashup.
Enjoy!