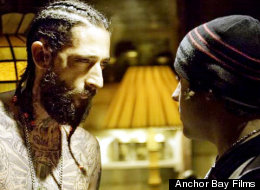 Forget being saved by the bell, in the new stoner flick "High School," the only thing that can save soon-to-be valedictorian Henry Burke (Matt Bush) is the nature's natural high. (Or, to be more exact, pot brownies.)
It all starts when squeaky clean Henry takes a hit for the first time, which unfortunately happens to be the same day his school principal (Michael Chiklis) institutes a zero tolerance drug policy and administers a mandatory drug test for all students.
Now Henry has two options: fail and lose his college scholarship, or team up with his stoner friend Breaux (Sean Marquette) to beat the system. They steal a high powered ganja from law student-turned-drug-dealer Psycho Ed (Adrien Brody) and spike the school's bake sale brownies, getting the whole school -- faculty included -- completely stoned.
Colin Hanks also stars as a young high school administrator. He gets high too, and from the looks of the redband trailer above, can't stop laughing.
Basically, it's pretty much Jeff Spicoli's dream world. Pizza for everyone, man!
The Best Stoner Characters Of All Time:
Before he was BRAD PITT, Brad Pitt was just another guy making a bong out of plastic honey bear. Don't "condenscened" him, man. (Bonus: Young James Gandolfini!)

Not only do Marty's (Fran Kranz) pot-smoking ways help save him from the horrible secrets inside the cabin in the woods (cue: thunderclap), but he actually uses his collapsable bong to render a zombie incapacitated.

Anna Faris won "Stoner of the Year" from High Times for her loopy role in "Smiley Face."

Kumar (Kal Penn) has sex with a bag of weed. That is all.

Carl (Bill Murray) grows his own grass. And his own grass. "The amazing stuff about this is, you can play 36 holes on it in the afternoon, take it home and get stoned to the bejesus belt that night." Cannonball coming! (It's a little harsh.)

When a small earthquake strikes, Ben Stone (Seth Rogen) grabs his bong before his pregnant girlfriend (Katherine Heigl). His stoner bona fides are not fooling.

Dude's name is Smokey. "I'm gonna get you high today, 'cause it's Friday; you ain't got no job, and you ain't got shit to do." Noted.

"Did you ever look at a dollar bill, man?" Ron Slater, we'll catch you later. (Alternate: every other cast member in "Dazed and Confused.")

The Dude abides.

Thurgood (Dave Chappelle) may love weed, but he also loves ... well, women, too.

Remember when Sean Penn was funny and lighthearted and not dour and serious? If not, just pop in "Fast Times at Ridgemont High." Aloha, Mr. Hand!

Cheech and Chong: The O.G. stoners to remember on 4/20.