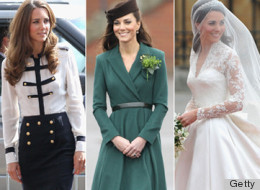 It's been almost a year since the royal wedding (can you believe it??), and in the 12 months following Will and Kate Middleton's nuptials, we've watched Catherine grow from a gorgeous bride to regal London royalty, attending social events and official engagements with perfect elegance.
Ever since the whole world oohed and ahhed over Duchess Catherine's Alexander McQueen wedding dress on April 29 (well, most of us did), we all kept our eyes glued to Kate to see what kind of fashion savvy she would bring to the table now that she was Her Royal Highness. As it turns out, Middleton kept her style low-profile, opting for simple wrap dresses and neutral pumps that some people cherished as realistic chic, while others poo-pooed, saying the duchess lacked any sense of fashion creativity.
To kick off our great debate series, Stylelist Beauty Editor Simone Kitchens and Huffington Post Style Editor Jessica Misener duke it out over Kate's style icon status. Who do you agree with?
Click here for more royal wedding anniversary coverage!
Step


1
Pre-debate poll:
Tell us your opinion before the debate starts to set the starting line
Kate Middleton is totally a style icon.
Agree - Thanks for voting! Please proceed to read the debate below
Please vote to proceed to the debate
Step


2
Who makes the better argument?
"Can I tell you how grateful I am to Kate Middleton?" Anne Hathaway said in an interview last year. "Because she is such an advocate for dressing like a lady. I think for a few years that kind of slightly dirty look was adopted by Hollywood - you know, the stringy hair, homeless thing... I'm just very grateful to Kate Middleton for making looking appropriate really fun again."
So maybe Kate hasn't quite caught on as a style icon in the eyes of the blogosphere. If she attended New York Fashion Week, she'd likely dart inside unnoticed by the phalanx of street style photographers awaiting more adventurous ensembles.
But, I'd argue that the duchess' approach to style is much more realistic than most of the fashionistas getting snapped at Lincoln Center. The average girl can't wear sparkly Miu Miu heels to her job or spend three hours getting ready in the morning. She has to put together an outfit to go to work or go to school, and let's face it, chasing novel fashion trends is a luxury for those with money and time.
Kate is influential. Her fondness for high street (British for main street) wear has kicked off a myriad of fashion crazes: She made long-sleeved wedding dresses cool in a sea of strapless cupcake gowns. She popularized the kitten heel again. Heck, she even brought back pantyhose. Pantyhose! In 2012! Proverbially, she kind of made it hip to be square.
And that's what most makes the duchess a style icon: she's been copied over and over and over. Kate ignited fashion trends that women of every income level and body shape could adopt. She just recently wore those coral-colored jeans, a perfect trend for spring that you can get at both Target AND Bergdorf. If you're a teacher or a doctor (or a princess), you probably can't waltz into a work meeting in a metallic crop top and neon oxfords; a simple pair of colored denim can totally perk up the average woman's wardrobe without raising eyebrows from her boss.
Kate's fashion is aspirational yet attainable. After all, Jackie Kennedy's Chanel suits and Cassini dresses weren't super innovative, but she had an immeasurable impact on fashion in the 1960's. We can't all be Lady Gaga.
In a world of stuffy couture and steep price tags, I also love that HRH doesn't take fashion too seriously -- maple leaf fascinator, anyone?
Perhaps that's what I admire most about Catherine -- she has all the money and stylist hiring-power in the world, but she'll wear something from a secondhand store and not give a crap. A bona fide princess who still shops at Zara? Now that's a reality I can get on board with.
The appeal of Kate Middleton's style is lost on me. It's always felt just a little too... safe? Yes, she's refreshingly down-to-earth and sure, her ability to incorporate mass retailers like Zara is relatable to many. But iconic? No. I think ultimately, for me, it's that Kate Middleton doesn't really take chances with her clothes, or hair or makeup for that matter. Admittedly, she's someone whose every move is watched, and she is a member of the British monarchy, but she needs to "loosen up a bit" or "change course." Perhaps she should first look to Princess Diana for a few pointers.
Off-duty Diana (I'm talking early days) was as stylish as a princess can get. With her oversized tweed blazers and 501s, it felt so natural, effortless. All with a little edge. (Sorry Kate, but J. Brands and slouchy pirate boots do not a style icon make.) To me, great personal style never feels played-by-the-book. I think Kate Middleton is overthinking it. And the result of that? A style that looks more designed by committee than by personal preference.
For starters, it's time to toss those nude nylon pantyhose. (Incidentally, this is something hotly contested around here at the office.) But for real, why does she wear those? I get that she's a duchess, and they probably make her feel more polished, pulled-together and what not, but it's 2012, time to take a different approach.
Next, her hair: The half-up, half-down style is a relic of a bygone era. As are the bouncy, curled ends. It's confusing and pageant-y.
And the eyeliner! What's going on there? Lining her entire eye with black liner is a bold move (especially for daytime, as she seems to prefer). Eyeliner this dark only makes her eyes look smaller. It's not really doing her any favors. She should try something in a less-aggressive shade of bronze or brown.
Also, what's with all the shrunken blazers? Paired with mid-calf riding boots? Kate's in a style rut. I can understand that being in the spotlight and now being official royalty and all, there are some standards to uphold, but let loose a little. Once she relaxes, then her true sense of style (and potential style icon status) will begin to evolve. It should be noted that she recently wore vintage, which revealed a glimmer of hope for more adventurous, experimental outfits to come.
I will hand it to her though: Her perma-smile is genuinely charming. So she wins some points there.
Step
3
POST DEBATE POLL
Did one of the arguments change your mind?
Kate Middleton is totally a style icon.
VIEW DEBATE ROUND 1 RESULTS
Agree - Thanks for voting again! Here are the results:
moreless AgreeDisagreeUndecided
Jessica MisenerSimone KitchensNeither argumenthas changed the most minds