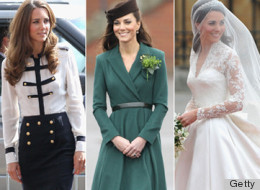 It's been almost a year since the royal wedding (can you believe it??), and in the 12 months following Will and Kate Middleton's nuptials, we've watched Catherine grow from a gorgeous bride to regal London royalty, attending social events and official engagements with perfect elegance.
Ever since the whole world oohed and ahhed over Duchess Catherine's Alexander McQueen wedding dress on April 29 (well, most of us did), we all kept our eyes glued to Kate to see what kind of fashion savvy she would bring to the table now that she was Her Royal Highness. As it turns out, Middleton kept her style low-profile, opting for simple wrap dresses and neutral pumps that some people cherished as realistic chic, while others poo-pooed, saying the duchess lacked any sense of fashion creativity.
To kick off our great debate series, Stylelist Beauty Editor Simone Kitchens and Huffington Post Style Editor Jessica Misener duke it out over Kate's style icon status. Who do you agree with?
Click here for more royal wedding anniversary coverage!
Step


1
Pre-debate poll:
Tell us your opinion before the debate starts to set the starting line
Kate Middleton is totally a style icon.
Agree - Thanks for voting! Please proceed to read the debate below
Please vote to proceed to the debate
Step


2
Who makes the better argument?
Step
3
POST DEBATE POLL
Did one of the arguments change your mind?
Kate Middleton is totally a style icon.
VIEW DEBATE ROUND 1 RESULTS
Agree - Thanks for voting again! Here are the results:
moreless AgreeDisagreeUndecided
"Agree""Disagree"Neither argumenthas changed the most minds