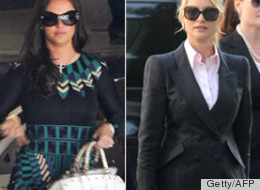 Nicollette Sheridan is set to join a cast of fashionable ladies who have found themselves sitting in court. As was announced recently, the "Desperate Housewives" star has got herself a second trial in her wrongful termination suit against ABC (which killed off her character via electrocution -- ouch).
So Sheridan will be heading back to trial in a matter of months, inevitability making her way to the courtroom surrounded by paparazzi flashbulbs. With all the attention, what will she wear?
We've got some ideas (and some suggestions of what not to wear). Below, see the many stylish ladies who dressed up for their day in court, including the queen of them all, Miss Lindsay Lohan.
The supermodel appeared in court for a child support hearing, in which she demanded money from former boyfriend (and current husband to Salma Hayek) Francois-Henri Pinault. She chose a glamorous yet ladylike look: a floral blouse, a black skirt and paparazzi-ready shades.

Actress Nicollette Sheridan wore a fitted black pantsuit with matching heels and bag. The only color she wore was a pale baby pink collared shirt -- an upgrade from the outfit she wore to court the day prior with a plain white collared shirt.

Lindsay Lohan certainly knows how to dress for court. The actress wore a sea-foam green dress that showed off her curves and snake skin heels. Though she hid her face from the cameras with thick black sunglasses, its obvious she was pleased with the outcome of the hearing.

Lindsay Lohan left the court after her probation hearing wearing a smile and a powder blue suit. Lohan decided to dress conservatively, choosing a covering black shirt as opposed to a blouse. The royal blue heels complimented the color of the suit and Lohan added a hint of sparkle with a gold chain necklace. Judge Stephanie Sautner ended Lohan's formal probation after concluding that she has completed the terms of her sentence for her 2007 DUI conviction and probation violations.

Nicole Richie left court with then-boyfriend Joel Madden in a collared, sleeveless black dress and satin Christian Louboutin slingbacks. She averted her eyes from the papparazzi behind huge black sunglasses that dominated her petite face.

The rock singer is no stranger to the courthouse. Love appeared alongside her attorney with a pale yellow blouse and a gray "suit" with ripped sleeves ending just below the elbow. She choose to wear little to no makeup and did not style her hair.

Ms. Spears dressed down for a custody hearing, wearing a black long-sleeve patterned dress with rich brown boots. Like other celebs in courts, Spears decided to display her religion views on her chest with a cross necklace.

Martha Stewart left court after her sentencing hearing in a drab black suit that did not fit her properly. The lugged a bag along by the shoulder handle as she walked down the courthouse steps in open-toed brown wedges that did not at all complete her outfit. Really Martha?

Paris Hilton looked like she just came from another event when she stepped out of her car into the courthouse. The heiress wore a santin off-white blouse tucked into a fitted black pencil skirt. Phone in hand and sunglasses on, she accessorized the outfit with a simple bow necklace and hanging diamond earrings.

Former Playboy playmate Anna Nicole Smith, who has since passed away, departed the U.S. Supreme Court with her attorney wearing all black. Smith opted to show some cleavage below her giant silver cross necklace. The starlet let her fitted overcoat lay open, showing off her slightly see-through blouse, black skirt and translucent black panty hose. The real marker of the outfit are her gold-studded heels.

The singer wore a demure black dress and a single string of pearls when she appeared to give her witness testimony in the 2009 felony assault case.

Actress Winona Ryder dressed down for her sentencing hearing, wearing a black collared sweater. She pulled her hair back with a black headband and wore a clean face of makeup.

The supermodel appeared before war crimes trial court in a see-through off-white fitted dress with a see-through sweater. She also sported a necklace with an eye on it. What are you trying to tell us, Naomi?