PinView, a new Facebook app, allows users to turn their timelines into what looks just like a Pinterest board.
The visually enhanced format of the Facebook profile plays up images in the newsfeed, timeline and friends page, displaying users' latest updates in a grid-like format.
Story Continues Below Photo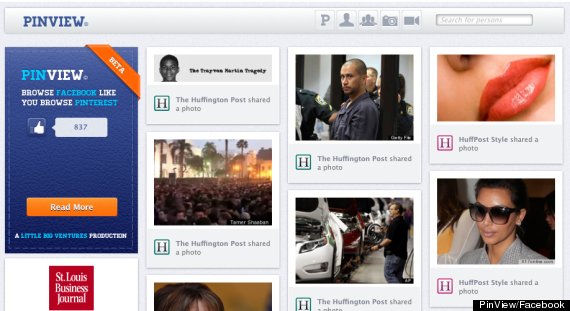 The beta application gives users the option to browse Facebook as they would browse their Pinterest boards.
They can sort through the latest news and updates by viewing everything or filtering results to include only photos or video.
Currently, posts don't include timestamps, so there's no sense of when updates were published other than their position on the grid.
The application also highlights posts users have "liked" by placing an orange ribbon tag on the top right of each post.
And if users need a refresher course on who's in their network, the "Friends" view splashes the names and images of all connections across the screen.
"We are also planning to allow you to sort them based on popularity and other non-realtime properties," Petersen told Mashable.
SUBSCRIBE TO & FOLLOW THE MORNING EMAIL
The Morning Email helps you start your workday with everything you need to know: breaking news, entertainment and a dash of fun. Learn more