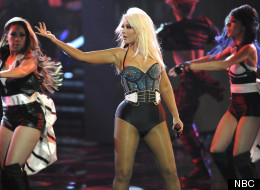 We've had so much style advice for "The Voice" coach Christina Aguilera this season, but this? This dirty look takes the worst-dressed cake. Who told her this family show was pants optional?
Xtina wasn't the only lady on the low end of our compliment scale -- a "Community" funny lady also flopped in a very homely costume this week.
But it was also a week full of TV fashion praise. From a sexy "Watch What Happens Live" guest to a serial killer resurrected from the dead, only to find her style on "Raising Hope," to a "Bones" star donning TV's sexiest trenchcoat, there were plenty of looks to love.
Click through the gallery to see all our best and worst TV fashion picks of the week, then share your own in the comments.
Best & Worst TV Fashion, April 13-19
"Parks and Recreation" fans know that Rashida Jones is funny, but we don't often see Ann Perkins' sexy side. When star Rashida Jones stopped by the Bravo clubhouse, her bright orange peep-toe platform heels said it all.

Hitting the White House in a sexy white dress? Not a bad way to keep all eyes on you. With a gorgeous low back and shoulder-baring neckline, Olivia was stunning, and we love the unexpected addition of a cocktail ring on her index finger.

Yes, she's a crazy serial killer, but Hope's mom (and Jimmy's wife!) Lucy, played by Bijou Phillips, was looking good back from the dead and out of that prison uniform for this week's big season finale. Too bad her intentions were still evil ... but we think she's all taken care of now.

We'll forgive the over-processed hair and too-orange spray tan just this once. For this performance, we couldn't see any violations more severe than Christina's outfit ... if you can even call it that. One word of advice, Xtina: Pants.

We think Lincoln and Olivia would be sexy in any universe, but Bolivia's fierce red hair and bangs combo is just really working lately. Wearing a fitted leather jacket, she manages to look tough but still gorgeous.

The best way to get people to forget a strange YouTube video of you chewing food then spitting it into your child's mouth? Show up somewhere looking sexy. Alicia Silverstone did just that in this sparkly green top, looking quite tempting as Eden on "Suburgatory."

Is that roadkill? We don't even really care ... how can you see past Booth's handsomeness in this sleek, classic trench coat? We don't think it's customary to bow down to special agents, but we salute this look.

We love a good "Community" costume party, but this? Earth Mother meets Princess Leia meets Mrs. Roper ... but somehow worse. On the other hand, it's a rarity for Alison Brie's, ahem, assets to not be exploited. So that's a positive.