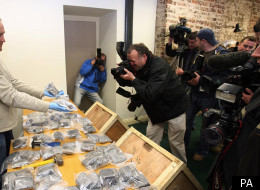 This 4/20, people around the country are gathering in public and in private to take part in the annual tradition of marijuana use. Thanks in part to a decades-long war on drugs, however, this activity is highly illegal, and making the choice to celebrate this day is also making a choice to break the law and risk serious consequences. The war on drugs is responsible for combating more than just marijuana though, and many broader questions remain as to whether the mission has been effective. What do you think? Can the arguments below change your mind?
Step


1
Pre-debate poll:
Tell us your opinion before the debate starts to set the starting line
The War On Drugs Is A Failed Endeavor
Agree - Thanks for voting! Please proceed to read the debate below
Please vote to proceed to the debate
Step


2
Who makes the better argument?
Step
3
POST DEBATE POLL
Did one of the arguments change your mind?
The War On Drugs Is A Failed Endeavor
VIEW DEBATE ROUND 1 RESULTS
Agree - Thanks for voting again! Here are the results:
moreless AgreeDisagreeUndecided
"Agree""Disagree"Neither argumenthas changed the most minds