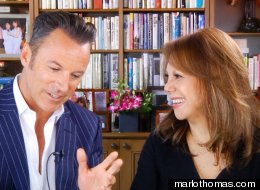 When Colin Cowie joined me on "Mondays With Marlo," one of our viewers wrote in, "I'm having a dinner party for six colleagues. Any tips for making it memorable and different?" Here's what Colin suggested:
When you're having a dinner party, just realize that today's savvy entertainer is a resourceful entertainer. It's not about chopping, slicing, dicing, peeling and doing everything yourself. You get no medals for that. So if you love to cook, cook one or two dishes, but you might want to supplement it with a store bought dessert or prewashed salad that you could put maybe a crouton or cheese on or something and dress it up that way.
Consider starting off with an incredible soup. That's your first course and then you're going to do salads for the second course and then the main course. So, for the soup, I would bring out the soup bowls. Take your hot soup and put it in a coffee pourer and pour it around the table, pass that around. That way you're getting hot soup and you don't have the soup sliding all over the place. It's very easy to do. You could even put it in a coffee thermos or a carafe if you wanted to do beforehand.
Salads -- make the salads, six or eight of them, however many you're serving; put them on a tray in the refrigerator. Take the tray out and bring it directly to the table and serve.
And then for your main course do like a one pot, one-shot wonder, a fabulous chicken casserole or wonderful lasagna or something that comes from the oven directly to the table and do a great store bought dessert.
Simple and stylish! Here are some more of Colin's tips on entertaining and weddings:
Get 11 Must-Have Wedding Tips From Colin Cowie Here
Find someone to help plan your wedding that has good organizational skills, and someone to help you the day of.

On your wedding day, and in life, don't go for perfection. Your best is good enough.

With only 52 Saturdays in a year, you're going to end up paying top dollar for any vendors you use on a Saturday. Opt for a Friday night or an early Sunday wedding instead.

Today's DJ's are tomorrow's rockstars. Instead of splurging on a live band, find a DJ who will work with your tastes. If you still feel the need for some live instruments, bringing one or two live musicians in to work with your DJ will be cheaper than booking a full band.

The most important aspect of your wedding is the timing. Know how long each part of your wedding should last - no one wants to spend an hour and a half at the cocktail hour, or be at a reception that starts half an hour late. Make sure that you have a schedule of events, a rundown of how long each thing will last so that all of your staff is on the same page.

Using a mirrored surface with candles on top will create a beautiful ambiance to your wedding, and are a cost effective substitution for flower centerpieces.

Instead of doing assigned seating for everyone, create a lounge environment. Have four or five food stations with a wine pairing instead of a long buffet line and waiter service to cut costs.

It's more important to make your guests feel welcome and comfortable than to impress them, so don't stress yourself out!

Forget what your mother, your maid of honor, or anyone else says about your wedding tastes! Your wedding isn't just one big party - it's your opportunity to tell everyone who you are now as a couple, so do what's right for you!

If you know that you're wedding will be full steam ahead till the very end and your guests have been dancing for hours, everyone is going to want a grilled cheese or something to snack on towards the end of the evening. Colin recommends serving French onion soup at the end, because it takes away the hangover!

Style has got nothing to do with money. Make your backyard wedding elegant and personal by serving your meal family style with using family recipes. Instead of spending a lot of money on expensive centerpieces, have bowls of pasta and roasted chicken and asparagus (or whatever appeals to you) pierced all the way down the table.
Add Marlo On Facebook:
Follow Marlo on Twitter:
Weekly Newsletter

Sign up to receive my email newsletter each week - It will keep you up-to-date on upcoming articles, Mondays with Marlo guests, videos, and more!

Sign up here