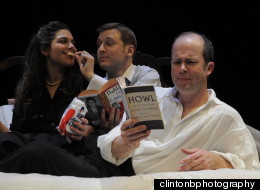 WASHINGTON-- Prepare yourselves for a mind-altering weekend.
Check out a pop-up gallery on the Georgetown waterfront, forage for wild edible plants and then dance for hours in Dupont Circle.
For more fun, click through the weekend slideshow.
Start off the weekend with a laugh courtesy of Erin Foley. She'll be at the Riot Act Comedy Theater. Given that she's been filming a comedy pilot for E! Entertainment, shooting a comedy special for Comedy Central, and was on "Chelsea Lately," you better catch her while you can. Tickets are $20. 8 p.m. and 10:30 p.m. Riot Act Comedy Theater 801 E Street N.W. (202) 697-4900. info@riotactcomedy.com

A new pop-up gallery on the Georgetown Waterfront kicks off this Friday. That night, area residents can celebrate with street art, photography and music. Check out the full schedule here.

Looking for some herbs and edibles that the government will approve of this 4/20 weekend? Take a walk into the wild world of sweet black locust flowers and succulent bamboo shoots coming into season. On this one mile walk, you will learn essential skills about collecting and preparing delicious edible plants from around your neighborhood. Tickets are $20 and space is limited. 9:30 a.m. to 11:30 a.m. Takoma Park, Maryland.

Catch Lunafest, an annual international festival of interesting short films "by, for, and about women." One recommendation: The award-winning "I Am A Girl," shown above, which tells the story of 13-year-old Joppe trying to catch a dreamy boy while figuring out how to tell him that she was born a boy. Tickets are $11. Shows at 4:15 p.m. and 6:45 p.m. Goethe-Institut 812 7 St. NW.

So you think you can dance? How about for six hours? Dupont Circle: Dance in the Circle will certainly test your mettle. The six-hour dance festival will feature instruction and performances near the Circle's iconic fountain. DJs, a sound system, and twelve D.C.-area dance companies will be on hand to pump the jams. Free. 3 p.m. to 9 p.m. 1 Dupont Circle NW.

Don't miss the chance to see contemporary opera this weekend at Artisphere. Drawing on instructional manuals of a bygone era, "Positions 1956," is a 90-minute "self-help" opera, both funny and bittersweet. In three acts, you'll see a fitness manual ("think Charles Atlas, 98-pound weaklings"), a ballroom dancing manual, and a sex manual. Tickets are $22. 7:30 p.m. 1101 Wilson Boulevard, Arlington VA.

The 13th annual Bethesda Literary Festival has a authors for every taste. On Sunday, see Thomas Friedman and Bob Edwards, or a panel of local authors including Alicia Oltuski and Aviva Goldfarb. Check out the full schedule here. Free. April 20 through April 22. 8120 Wisconsin Ave., Bethesda, MD.

Celebrate Earth Day on the National Mall with Cheap Trick, Dave Mason, Kicking Daisies and Explorers Club. Join prominent speakers and celebrities to support the environmental movement. In addition, there will be a youth rally, voter registration and interactive exhibits. Free. 11 a.m. to 7 p.m. National Mall. Additional infomation here.