Rufus Wainwright On The Black Cab Sessions: Artist Performs 'Out Of The Game' (VIDEO)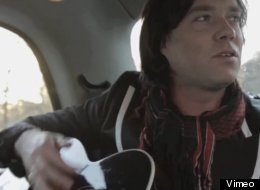 The Black Cab Sessions have welcomed bands like Delta Spirit, Mumford and Sons and Cool Kids. Now, Rufus Wainwright lent his voice to the acoustic shows literally held in the back of a black cab as it drives around Britain. In the clip uploaded to the project's Vimeo site, Wainwright performs a chilling version of "Out of the Game."
Wainwright is a Canadian sing-songwriter and composer who has released ten albums, won a Grammy Award, and contributed to numerous plays. His performance here is a two-pater, with "Jericho" as the first installment. They are both simple -- Wainwright strums his guitar while belting it out and cursing in the car.
Watch Rufus Wainwright perform "Out of the Game" on The Black Cab Sessions:

Watch Rufus Wainwright perform "Jericho" on The Black Cab Sessions: