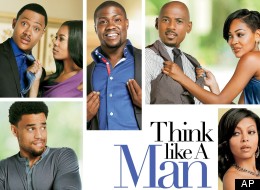 "Think Like A Man," the new adaptation of Steve Harvey's best-selling book, earned a muscular $9 million at the box office on Friday, reports THR. That puts the little-discussed film on track to knock "The Hunger Games" out of the top position when final numbers are tabulated on Monday. (Deadline.com's Nikki Finke was even more bullish on "Think Like a Man," reporting Friday grosses of $12 million.)
UPDATE: Finke's estimates were dead-on: "Think Like a Man" earned $12.2 million on Friday, which could push it over $30 million for the weekend.
Directed by Tim Story, "Think Like A Man" has been tracking very well despite little mainstream press acknowledgement. (The film was projected to gross around $17 million this weekend.) Earlier this month, Vutlure reported that "Man" was the "best-testing film in Hollywood," with screening audiences giving it almost unanimous praise and approval. The romantic comedy stars Romany Malco, Meagan Good, Taraji P. Henson, Michael Ealy and Kevin Hart, who could be "Man's" not-so-secret weapon. Last year, the comedian's stand-up film, "Laugh at My Pain," earned a surprising $7.7 million at the box office.
"Think Like a Man" wasn't the only film to over-perform on Friday night. Despite negative reviews, "The Lucky One" earned roughly $9 million on its first day of release, which could give it a final tally near $25 million for the weekend.
If those numbers hold, both films will top "The Hunger Games." The blockbuster is predicted to earn near $14 million after grossing just over $3 million on Friday night. The adaptation of Suzanne Collins' best-selling book has topped the box office for four straight weeks, the first film to do so since "Avatar."
[via THR, Deadline.com]
Critics Weigh In on "Man" and Other Releases From The Week
Perhaps Nicholas Sparks' latest novel-turned-movie, "The Lucky One," could have been better if the main protagonist -- played by a semi-shirtless Zac Efron -- wasn't so creepy and unlikable, says Newsday. The overheated eroticism could have at least made for a camp classic, but the film's chilling narcissism ultimately makes for a pleasureless fantasy.

If you've seen a sitcom in the last 30 years, then Film.com thinks that you probably know exactly how "Think Like a Man" is going to play out. Drastically overlong, burdened by too many stories about too many couples who are too one-dimensional to be relatable.

What could have been an epic gothic adaptation of Rachel Klein's 2002 novel "The Moth Diaries" turned out to be an epic embarrassment, according to Time Out. You know it's bad when the critic calls your film "Twilight-lite." Whither the filmmaker who gave us such memorable monsters as Patrick Bateman and Valerie Solanas, or such complex females as Bettie Page? Someone has apparently stolen the director's identity and is making movies under her name.

Jason Mraz has always been a laid-back guy, but is it possible to be too mellow? On his new album, Love Is A Four-Letter Word, Mraz has no use for the "pop-rap vocal rhythms or silly wordplay" that he's known for, comments The Wrap. Mraz was never exactly hard-boiled, even back in the days when he was trying to be funny, but "Love" is so single-mindedly mellow it's almost as if the CD itself were constructed from recycled antidepressants, or maybe old Bread LPs.

Fans of Julian Fellowes' hit PBS Masterpiece series "Downtown Abbey" thought that his four-part "Titanic" miniseries was going to bring the captivating drama of the "Abbey" to the sea. Unfortunately, Fellowes' "Titanic" had far too many stories to tell and not enough time to carry them all out properly, according to The Washington Post. Not to mention that "Titanic" sank in the ratings. Oh, poor lamb. Here's your life vest and your deck chair. This whole thing is going down and taking us with it.

Remember when Train was considered a rock band, and they released singles like "Meet Virginia" and "Drops of Jupiter"? If you thought "Hey Soul Sister" was an annoying pop tune, then just wait until you hear Train's newest album, California 37, says Sputnik Music. [T]he whole of California 37 is likely to make you question your sanity. The album is basically a round up of the happiest sounds Monahan could muster, placed overtop of cute jingles and packaged in the most radio-friendly format possible.

No matter how charming "Veep" star Julia Louis-Dreyfus is in real life, she can't quite convey the clueless veep that she needs to be in her new HBO comedy, says HuffPost TV's Maureen Ryan. And I like the cringe-inducing comedy of awkwardness as much as the next person, but "Veep" simply isn't particularly fresh or funny, and most of its jokes are telegraphed from a long way away. For instance, if Selina's stated goal in an episode is to show her daughter that she's a priority in the politician's life, you can be sure that exactly the opposite will happen.

HBO's new show "Girls" isn't for everyone. In fact, Lena Dunham's "engineered" series isn't for very many people at all, and Hairpin was majorly disappointed. "My chief beef is not simply that the girls in 'Girls' are white ... The problem with 'Girls' is that while the show reaches -- and succeeds, in many ways -- to show female characters that are not caricatures, it feels alienating, a party of four engineered to appeal to a very specific subset of the television viewing audience, when the show has the potential to be so much bigger than that. And that is a huge fucking disappointment."