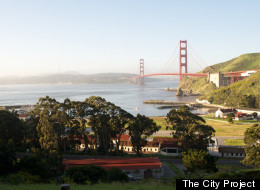 In the Bay Area, our environmentalism is palpable.
From Mt. Tam to Golden Gate Park, from the plastic bag ban to our bay cleanups, from our tree sitters to our red legged frog savers, we've always had a soft spot for Mother Earth, and it shows: just check out our ranking in the US Canada Green Cities Index in the slideshow below.
So today, Earth Day, HuffPost SF is celebrating the biggest moments in Bay Area environmental history. Check out a few highlights in our slideshow below, and add your own in the comments section. Happy Earth Day, everyone!
Great Moments In SF Environmental History
Inspired by Central Park forming in New York City, San Franciscans craved a one-of-a-kind nature and public space in the 1860s. Engineers chose the uninhabited sand dunes known as "outside lands" for the site of the park, and carved a 1,000-acre park into the landscape. Now, nearly 150 years later, Golden Gate Park is home to the de Young Museum, the Conservatory of Flowers, Kezar Stadium, the AIDS Memorial Grove, the Academy of Sciences, botanical and tea garden, waterfalls, lakes, creeks, forests and a friendly herd of bison.

In 2007, then-Supervisor Ross Mirkarimi proposed a landmark initiative banning the use of plastic bags at large supermarkets and chain pharmacies. Just this year, the ban was expanded to include all retailers citywide. Though controversial (a lawsuit was filed against the ban a month after the expansion), the ban set a precedent, and has been referenced in arguments for similar bans state and nationwide.

Berkeley wouldn't be Berkeley without activists hugging, or in this case hanging out in, trees. The Oak Grove Controversy, also known as the Berkeley Tree Sitters, arose over the planned removal of a grove of oak trees in preparation for the construction of a new student athletic training center for UC Berkeley. Berkeley city law prohibits removing any coast live oak with a trunk larger than six inches within city boundaries, but UC Berkeley does not fall within city limits. The University's actions sparked three lawsuits, as well as a tree sit-in protest that ran from December 2006 to September 2008, when the trees were finally cut down.

On May 24, 1990, environmental activists Judi Bari and Daryl Cherney were nearly killed in a car bombing in Oakland. When Bari finally awoke in the hospital, she was accused of bombing herself and painted as an ecoterrorist. But through a decade of tireless campaigning and relentless activism, Bari cleared her name and saved almost 8,000 acres of the Headwaters Forest. Her life inspired the recent documentary "Who Bombed Judi Bari?" and just this month, almost 22 years after the attack, a federal judge ordered the FBI to turn over evidence from the bomb for forensic testing.

In 1892, conservationist John Muir founded the Sierra Club, a grassroots environmental organization that is now one of the nation's largest and most prestigious, right here in San Francisco. The club was originally formed to protect the Sierra Nevada. Now, the nationwide organization works to protect wild places from coast to coast.

Not only did the national locavore movement--the idea that eating food grown in your immediate area is better for both you and the planet--start in San Francisco, but the Bay Area is home to its ultimate expression. The term was coined on World Environment Day in 2005, when a quartet of San Francisco women termed themselves "the locavores" and embarked on a very public challenge they called "Celebrate Your Foodshed: Eat Locally." The idea of eating locally spread like wildfire and, suddenly, people around the country started harkening back to the days when no one ate processed food made thousands of miles away because that stuff didn't even exist.

When former San Francisco mayor Gavin Newsom announced the construction of a giant solar power facility in the middle of the city's most notoriously foggy neighborhood, it raised more than a few eyebrows. But, as it turns out, solar panels do pretty well in fog. According to solar advocates One Blog Off The Grid, a solar panel in cold, foggy San Francisco can be just as productive as one in sunny Sacramento (if not more so), making the ambitious 24,000 panel Sunset Reservoir Solar Project, which opened in late 2010, a big success. Over the 25-year lifespan of the project, the 12-acre facility is projected to reduce carbon emissions by 109,000 metric tons and generate 5 megawatts of clean energy daily--enough to completely power more than 1,500 San Francisco homes and businesses.

It seems our environmental policies have finally paid off, and San Francisco has been named the greenest city in the United States and Canada, in a recent study taken by Siemens.