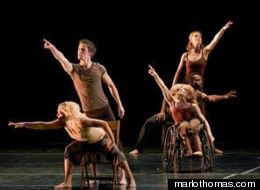 I'm always inspired by people who overcome whatever obstacles are thrown at them, and choose instead to live their lives according to their dreams. That's why I find Mary Verdi-Fletcher's story so encouraging.
Mary is an Ohioan who was born with spina bifida, a birth defect in which the backbone and spinal canal do not close before birth, severely limiting the individual's mobility. But such a profound physical disability did not stop Mary from enjoying a fulfilling childhood.
"My family always wanted me to have a 'normal' life," Mary says, "and going to a school that was mainstream was on the top of their list." But it was when Mary returned home from school everyday that the seeds of her dream were planted.
"My mother was a professional dancer and my father was a musician," Mary recalls. "So Mom would turn on a record and get my brother and me together in the family room, and she would create a dance. She instilled the love of dance within me."
As a young woman, Mary was swept up in one of the most contagious dance movements in history -- disco -- so she decided to enter a "Stayin' Alive!" dance competition. It was a gutsy move, to be sure; and when the wheelchair-bound contestant and her partner, a trained gymnast, swept onto the dance floor, a hush fell over the crowd.
The pair performed with precision and passion -- and then came the big finish: Instead of lifting her in the air, Mary's partner somersaulted across the armrest of her wheelchair. The crowd went ballistic and a dream was realized.
Mary's unlikely success, however, was not without its drawbacks. As she grew older and got married, she developed problems in her kidneys as a result of her condition, and lost both of them. Soon, she was enduring the pain of dialysis. The only time she felt good, she confessed, was when she was dancing; but the moment she left the stage, she would begin to feel ill.
Her husband could no longer stand seeing Mary in such agony, so he secretly consulted with her doctors to see if he could be a potential match to donate a kidney to his wife.
"This was the thing I wanted to do," he said. "I love Mary, and it really pained me to see what she had to go through."
As luck would have it, her husband was a match. He gave Mary his kidney and, within one month, she was dancing again.
Today, Mary is the proud founder of The Dancing Wheels Company & School in Cleveland, a state-of-the-art studio that has become a world-class training center for dancers, choreographers and educators -- for those with and without disabilities. And Mary continues to teach -- and dance -- from her wheelchair.
From her mother's living room, to the disco dance floor, to the mirrored walls of her own dance studio, Mary Verdi-Fletcher has never accepted the myth that she couldn't be like everyone else. And if she ever heard the word "no," she certainly didn't listen. Today, she is living her dream -- and making a living from it, too.
We're so proud to show you more of Mary's story in the video and photos here. I think she will inspire you. She sure inspired me.--Marlo, MarloThomas.com
The Dancing Wheels Company And School
Mary believes that everybody has the desire to dance and move, no matter what their abilities. So, in 1980 she founded the Dancing Wheels Company that features both abled and disabled dancers. And ten years later, she began teaching integrated dance to dancers of all abilities and ages.

Today the multi-faceted organization boasts a professional dance company that performs throughout the year, a dance school for artists of all ages and abilities, and an in-school outreach program. Here, Mary and her team practice some of their moves in the studio.

When Mary first started Dancing Wheels, her main goal was to bring integrated dance to as many people as she could. Today, through professional company performances, master classes, workshops with the company and the dance school, Dancing Wheels has touched over 4.5 million people.

In 1990 the Dancing Wheels Company partnered with the Cleveland Ballet to create the ground-breaking Cleveland Ballet Dancing Wheels which went on to delight audiences for nearly a decade.

Today Mary is known as the first professional wheelchair dancer in the United States. Born with spina bifida, a birth defect that limits an individual's mobility for life, Mary refused to live her life as if she were disabled.

Growing up Mary's parents always insisted that she be raised to live as normal of a life as possible, and part of that plan was sending Mary to a mainstream school. It was from childhood that Mary developed her sense of strength and independence.

It was Mary's mother, a professional dancer, who first instilled the love of dance in Mary. As a child her mother would put on a record and make up a dance with Mary and her brother in their living room.

As a young woman, Mary was swept up in one of the most contagious dance movements in American history: disco.

At the height of the disco movement, Mary decided to enter a Staying Alive dance competition that would be aired on Walt Disney cable television. Here, she and her dance partner, David Brewster strike a pose.

Although the audiences first seemed to doubt Mary when she came out on stage in a wheelchair, by the end of the show, they were on their feet in a standing ovation. In fact, the response to Mary's performance was so positive she and her dance partner later did 72 performances in that year.

With such an outpouring of response to Mary's unique and inspiring dance, she went on to found her dance company in 1980.

Today, students eager to train with Mary travel from all across the company to join the Dancing Wheels Company, one of the nation's only schools where people with disabilities can professionally dance. The company and school teaches physically integrated dance and partners stand up dancers and sit-down dancers, a method of dance not found in many other schools or companies.

The Dancing Wheels School organically grew out of the desires and the needs of the community. Just ten years after she founded her dance company, Mary had people asking her for lessons for their children, both disabled and abled, which inspired to open the doors to a dance school that taught integrated dance to people of all ages.

In her continued effort to share her passion with as many people as possible, Mary and the Dancing Wheels Company put together a number of school assemblies every year. At these assembly-based programs, Mary and her team talk to students about disabilities, dance and achieving one's goals.

Mary and her team share some of their moves with the students at a school assembly.
Add Marlo On Facebook:
Follow Marlo on Twitter:
Weekly Newsletter

Sign up to receive my email newsletter each week - It will keep you up-to-date on upcoming articles, Mondays with Marlo guests, videos, and more!

Sign up here