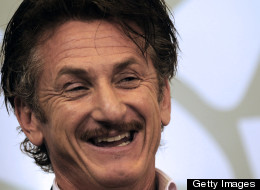 Sean Penn isn't necessarily known for his sense of humor, but the dude is funny. There's his still-iconic performance as Jeff Spicoli in "Fast Times at Ridgemont High," his brief flirtation with "The Three Stooges," his self-effacing appearance on "Between Two Ferns" with Zach Galifianakis, and now this: Deadline.com reports that Penn is in talks to join Ben Stiller in "The Secret Life of Walter Mitty."
A remake of "Walter Mitty" has been in development for years. Everyone from Jim Carrey to Mike Myers to Sacha Baron Cohen were involved in discussions to play the lead role, which Danny Kaye originated in the 1947 film. Stiller attached himself to star and direct last April, and casting has been going strong since. Also onboard to co-star are Kristen Wiig, Adam Scott, Patton Oswalt and Shirley MacLaine. Per Deadline.com, Penn's role would be small.
The actor -- who has won two Oscars -- rose to fame after playing Spicoli in "Fast Times." His most recent play for laughs was in the Funny or Die video, "Clinton Foundation: Celebrity Division." Perhaps unsurprisingly considering this casting news, Penn appeared with Stiller in the star-studded spoof. Watch it below.
[via Deadline.com]
PHOTOS: Sean Penn & His Recent Romances
Petra Nemcova greeted honoree actor Sean Penn at the Happy Hearts Gala in 2011.

Petra Nemcova and Sean Penn share a smooch at a Happy Hearts gala in 2011.

Sean Penn and model Petra Nemcova attended the 16th Annual Elton John AIDS Foundation Academy Awards viewing party together.

Sean Penn dined with Italian actress Cristina Serafini in Rome.

Sean Penn walked with actress Valeria Golino in Italy.

Sean Penn and then-girlfriend Stacey Koplin walk along the beach in Malibu.

Sean Penn was linked to Jessica White in 2009 and 2010.

Sean Penn married actress Robin Wright in 1996. The couple split for the first time in 2007, and started and stopped divorce proceedings for several years before finalizing their divorce in 2010.