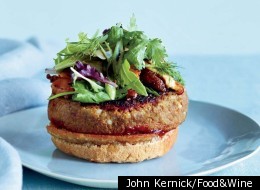 As a vegetarian, or someone who is trying to eat less meat, a veggie burger makes a quick and easy meal (even easier than a hamburger since you can just heat it in a toaster at the same time as your bun). But the thorn in the heel of this easy meal is that store-bought veggie burgers are rarely very good (and homemade ones take time and effort). The ones from the store are definitely edible, but they're often times bland and dry; and when placed between two slices of bread they make a very dry sandwich.
But that doesn't mean that you should banish veggie burgers from your diet. It just means that they require a little creative thinking. After all, would you really want to get rid of a meal which you can have ready to go in 10 minutes or less? Click through the slideshow below for some inventive -- and delicious -- ideas on how to transform your veggie burger from a mediocre meal to one that's truly mouth-watering.
How do you top your veggie burgers? Leave a comment.
The problem with a lot of veggie burgers is that they're just too dry. And when sandwiched between two semi-dry pieces of bread, it makes eating one not a very enjoyable experience. That's why adding creamy toppings can make all the difference -- and hummus is a great one to turn to since it's high in protein too. You can use store bought, or make your own. Get the Easy Hummus with Tahini recipe

We all know that pickles served atop our burgers make a great complement -- that's why it's been done for so many years -- but so do pickled red onions. They're playfully tart and sweet, have a light onion flavor, and also have a nice bit of crunch left in them.

Guacamole transforms your veggie burger from an often bland sandwich, to one that's rich, creamy and flavorful. And since the flavors border on Mexican, feel free to top with queso fresco and some spicy red salsa. Get the Guacamole recipe

Why put ordinary tomatoes on your sandwich when you can have fried green tomatoes. Not only do they add a nice crunch to your sandwich, but they're also juicy inside -- providing a nice contrast to the sometimes dry veggie burger.

Brie isn't just reserved for cheese plates anymore, this doubly-creamy cheese works great on sandwiches and burgers too. Brie melts nicely on top of a hot burger and adds a richness that the other cheese can't rival.

To get a double dose of protein, and a little more grease in your meal, preparing your veggie burger with a fried egg is the way to go.

If we put raw onion slices on our burgers, why wouldn't we put fried onion rings? And while this might seem like a slightly over-the-top move for an otherwise healthy veggie burger, once you try it, you'll never go back. Get the Onion Rings recipe

Sure, you could put mayo on your burger, but why not take it up a notch with garlicky, cucumber tzatziki? It would pair nicely with feta cheese and a Kalamata olive tapenade. Get a Recipe

This is definitely a bold move. Not only is macaroni and cheese normally a meal on its own, but it's also not the easiest to stuff in a sandwich. But if you have leftovers sitting in your fridge, it's well worth the effort and indulgence. And of course, once you top your burger with macaroni and cheese, there's no need to add anything else.

Alfalfa sprouts might not seem like a very exciting topping for a veggie burger, but these two ingredients are meant to be together. While one is heavy and dense, the other is light and refreshing. A veggie burger really just isn't complete without the addition of these little greens.

Blue cheese adds a nice tang and creaminess to dishes. And since it doesn't completely melt, it makes the a sandwich feel just a little more substantial.

At some point, we've all done it: stuffed potato chips inside of our sandwiches. The crisp, crunch of the chips is just what a veggie burger needs. And don't stop at salted, get creative with flavors such as spicy Thai barbecue and fully loaded baked potato.

Garlic makes everything better, and aioli is the perfect vehicle for getting garlic onto your sandwich. And it also adds a great creaminess too.

Adding portobello mushrooms to your veggie burger is much like enjoying a double-decker burger. You can sautee or barbecue the mushrooms -- whichever cooking method is the easiest is the way to go.

This rich, French sauce isn't just for steaks anymore. As a sandwich topping it just makes sense -- and it takes the place of the more common ketchup and mayonnaise.

While we know that cranberry sauce is perfect for Thanksgiving and that it has the ability to make turkey taste amazing -- it's also good for veggie burgers. It offers just the right amount of sweetness to a savory sandwich. So if you've got some in your freezer from last year's festivities, it's time to put it to good use.

Think of an eggplant parmesan sub, but substitute the eggplant for a veggie burger. With some leftover marinara sauce, a generous topping of mozzarella cheese and a minute under the broiler, this will be one veggie burger you'll want seconds of.