Dog On Gymnastic Rings Is Olympics Material (VIDEO)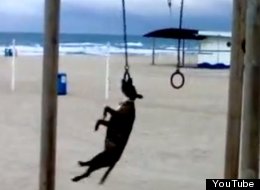 We all know dogs are active animals, but this dog in Valencia, Spain, really goes crazy for gymnastic rings at a beach.
At first, the dog struggles to climb up the pole to reach the hanging rings. A man, presumably his owner, helps the dog out by lifting him up. Once the dog grabs hold of one of the rings with his jaw, he holds on to it and spins his body -- for an entire minute!