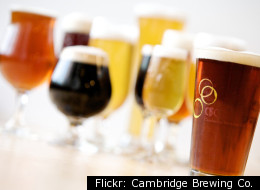 Craft beer has been experiencing a renaissance for quite some time now. And while we certainly aren't complaining about this, there's one issue that keeps coming up. Every day there are more and more beer options at the store. This is fun and exciting for beer lovers, but it's making it harder and harder to know which beer to choose (not exactly the worst problem to have, we know).
This is especially challenging if you're still a little unclear on the difference between a pilsner and a pale ale, a porter or a stout. Not long ago, you could walk into a store and, even if you didn't know the flavor profiles of different types of beer, you at least knew which brand you liked and what the label looked like.
There are so many fun beer options to choose from; and new breweries are popping up at the liquor store everyday featuring unique brews with names like Heart of Darkness and Founder's Double Trouble. Don't let your beer ignorance hold you back from enjoying beer's revival. Click through the slideshow below for a quick tutorial on the different types of beer.
What's your favorite beer variety? Leave a comment.
Pilsner is one of the youngest beer styles in the world; it's a clean and simple pale lager and one of the more popular beer varieties. It was originally brewed in Plzen, Czechoslovakia in 1842 using the regions distinctive Noble Saaz hops. Flavor Profile: Strong hops, softer malt, fragrant, and pleasurably bitter flavors. Recommended Pilsners: Radeberger Pilsner Urquell Warsteiner

Wheat beer is reminiscent of the first brewed beers. They're a mixture of barley and wheat grains, have a low to nonexistent hops presence, cloudy appearance, and often prominent yeast flavor. The yeast used is a specialized ale yeast used only in wheat beers and contributes much of the aroma and flavor of the brew. Flavor Profile: The flavor ranges greatly depending on wheat styles, but they're typically light in flavor, making them great summer beers. Recommended Wheat Beers: Hoegaarden Allagash White Harpoon's UFO Hefeweizen

True to its name, brown ale is a dark amber color. It's a very old style beer, whose history dates back to unhopped ales. In the 18th century, brown ales were lightly hopped and brewed from 100 percent brown malt -- which is how they got their distinctive color, but today the term brown ale incorporates many different kinds of brews. Flavor Profile: Brown ales have a higher level of malt, which makes it more earthy and less bitter. Flavors vary from sweet, to slightly hoppy, to earthy and malty. Recommended Brown Ales: New Castle Brown Ale Samuel Smith Nut Brown Ale

Pale ale is one of the world's most popular beer styles. It was invented thanks to innovation in brewing technology where they discovered a method to gently roast the barley. It's made with the use of pale malt. Flavor Profile: In the UK, this brew has a strong malty and woody flavor. In the U.S., the hops are ramped up during brewing, making it a spicy beer. Recommended Pale Ales: Anchor Brewing Company Liberty Ale Sierra Nevada pale ale Duvel

During the 1700s, when English troops lived in India the typical pale ale brew most Englishmen drank would spoil before the ship reached the Indian shores. In order to prolong the beers shelf life, brewers added more hops (a natural preservative), and hence the origin of a now very popular beer. Flavor Profile: A strong hoppy flavor, with a slightly bitter taste. Recommended IPAs: Brooklyn East India IPA Dogfish Head 60 Minute IPA

Double IPAs are also called "Imperial" IPAs. These beers have even more hops added to them than traditional IPAs, sometimes double to triple the amount. To balance the strong hoppy taste, more malt is also added which makes this beer a strong one. Flavor Profile: Due to its doubling up on hops and malts, this brew has strong, fruity, hoppy notes and deep malty undertones. Recommended Double IPAs: Lagunita Maximus Double Dog Double Pale Ale

Bock beer is stronger than your typical lager and has a more robust malt character. In the Medieval days, German monasteries would brew strong beers, such as this one, for sustenance during their Lenten fasts. Flavor Profile: Rich and malty with a slight hint of hops bitterness. Recommended Bocks: Michelob Amber Bock Anchor Bock Beer Samuel Adams Chocolate Bock

Porters are very dark, almost opaque. They consist of roasted malts or roasted barley, and are typically brewed with slow fermenting yeast. Flavor Profile: Mild with notes of roasted grains, chocolate and toffee and none of the harsh notes of stout. Recommended Porter: Great Lakes Edmund Fitzgerald Porter Alaskan Smoked Porter Smoked Porter

Stouts have an unclear history, yet it's strongly held by many that they derive from porters. They're made with black unmalted barley which contributes to most of the color and flavor characteristics common in all stouts. The head of stout should be thick and is usually tan to brown. Flavor Profile: Heavily roasted flavor. Should have hints of coffee, chocolate, licorice, and molasses with no apparent hops flavor. Recommended Stouts: Samuel Smith Oatmeal Stout Pike Stout Extra Stout

The right way to pour a beer (regular beer and Guinness).