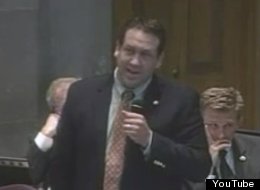 A Tennessee-based lawmaker raised more than a few eyebrows this week after suggesting that children who were committing suicide were doing so because they "were not instilled the proper principles" at home.
As The Tennessean is reporting, State Rep. Jeremy Faison (R-Cosby) spoke up against a proposed cyberbullying bill, and may have been alluding to the recent suicides by Phillip Parker and Jacob Rogers, both of whom had allegedly complained of being bullied over their sexual orientation in the state.
"We can't continue to legislate everything," he said in his speech. "We've had some horrible things happen in America and in our state, and there's children that have actually committed suicide, but I will submit to you today that they did not commit suicide because of somebody bullying them. They committed suicide because they were not instilled the proper principles of where their self-esteem came from at home."
Faison continued, "Now, instead of sending children to the principal's audience, we're sending them to the criminal court...there's people in this room right here who, at one time in their life, were a bully. But you didn't grow up to be a bad person."
A spokesperson for the Tennessee Democratic Party decried Faison's comments on the group's official blog. "What a disgrace," the spokesperson wrote, slamming what they described as Faison's "boys will be boys" mentality. "It is unfortunate that some in the Republican Party have become the protectors of bullies. Of course, it is not terribly surprising, because as a legislative group they are nothing but bullies, disparaging and demeaning those without power in this country in order to build themselves up."
Faison reportedly issued a statement in which he apologized for his "poor choice of words, The Tennessean notes. "My true intent was to protect children from becoming criminals," he wrote. "Suicide has touched my family, and I would never want a parent or family member to feel they were responsible for such an unimaginable tragedy."
Earlier this month, the state's infamous "Don't Say Gay" bill reportedly advanced in a House committee by a vote of 8-7 on Tuesday and will now "go to the calendar committee before a floor vote," according to ThinkProgress. That bill would reportedly make it illegal for educators to discuss any sexual behavior apart from heterosexuality with students in kindergarten up through the eighth grade.
Take a look at recent LGBT bullying cases below:

LGBT Bullying Reports & Videos
Though details of the 17-year-old Reese's April suicide are scarce, his boyfriend Alex Smith spoke frankly about the repeated bullying the teen had experienced at school. As one official is quoted as telling Ogden OUTreach off the record: "It happens here about once a week, but officially, you know, it doesn't happen here."

The 14-year-old took his own life after friends and family say that classmates sent him death threats on his cell phone and made him the subject of a Facebook hate group. "People that were originally his friends, they kind of turned on him," sister Kayla Weishuhn, a sophomore, is quoted as saying. "A lot of people, they either joined in or they were too scared to say anything."

In January, just one month after filming an "It Gets Better" video in support of lesbian, gay, bisexual and transgender (LGBT) youth, 19-year-old Eric James Borges took his own life. Borges, who went by EricJames among friends, worked as an intern with The Trevor Project, and as a supplemental instructor at the College of the Sequoias, according to Queer Landia blogger Jim Reeves.

Jacob Rogers had been bullied at Cheatham County Central High School for the past four years, but at the start of his senior year, it had become so bad he dropped out of school before taking his own life. "He started coming home his senior year saying 'I don't want to go back. Everyone is so mean. They call me a faggot, they call me gay, a queer,'" friend Kaelynn Mooningham said.

Eighteen-year-old Jeffrey Fehr, who was known as a skilled athlete and previously served as the first male captain of his high school's cheerleading squad, hanged himself on New Year's Day in the front entrance of his family's Granite Bay home after enduring what his parents describe as a lifetime of anti-gay bullying.

The disturbing rash of LGBT teen suicides began receiving attention last fall. Among those who took their own life was Tyler Clementi, an 18-year-old Rutgers University student who jumped off the George Washington Bridge between New Jersey and New York after his roommate allegedly filmed him having sex with another man.

Seth Walsh, a 13-year-old California teen, hung himself in September 2010 after reportedly being bullied because he was gay.

Gay Rhode Island-based student Raymond S. Chase, 19, became the fifth in 2010's disturbing spate of teen suicides last fall.

In October 2010, President Obama released a video in support of LGBT youth who were struggling with being bullied.

In November 2010, Jim Swilley, the pastor of a Georgia megachurch, revealed to his congregation that he is gay. The 52-year-old father of four said the recent spate of teen suicides, particularly that of Clementi, prompted him to change his mind. "For some reason his situation was kind of the tipping point with me," Swilley told CNN's Don Lemon this weekend.

In June, "Harry Potter" actor Daniel Radcliffe was honored with the Trevor Project's "Hero" Award for his ongoing suicide prevention efforts for LGBT youth.

In September, Jamey Rodemeyer, a 14-year-old boy from Williamsville, N.Y., took his life Sunday after what his parents claim was years of bullying because of struggles with his sexuality, months after posting this "It Gets Better" clip on YouTube.

After vowing to stop bullying and make it illegal, Lady Gaga -- a longtime advocate for LGBT causes -- dedicated a performance to Rodemeyer at the iHeartRadio Music Festival in Las Vegas. "I wrote this record about how your identity is really all you've got when you're in school," Gaga told the crowd. "So tonight, Jamey, I know you're up there looking at us, and you're not a victim. You're a lesson to all of us."

Days after being faced with a petition that urged her to publicly address gay bullying in her district, Rep. Michele Bachmann noted, "That's not a federal issue," according to CBS News. Previously, Tammy Aaberg, the mother of Justin Aaberg, a gay teen in the Anoka-Hennepin school district who committed suicide after having been bullied in area schools, delivered petitions to Bachmann's office asking her for support.

Jamie Hubley, a gay 15-year-old from Ottawa, Canada, committed suicide Oct. 14. In this clip, the teen performs Mike Posner's "Cooler Than Me."

Friends created a poignant tribute video to Hubley, the Canadian 10th grader who committed suicide on Friday.