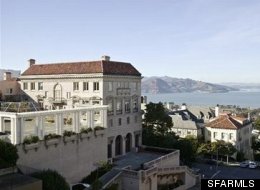 As The Huffington Post reported back in July, the international recession has slashed home prices just about everywhere…except in San Francisco. According to Assessor-Recorder Phil Ting, our market is the strongest in the state, and grew by about $2 billion in the past year.
"This city is a gold mine for real estate," said real estate mogul Rick Teed to HuffPost. "If you have a house with no view, but it's redone and in a neighborhood like Pacific Heighs, it's going to be north of $1000-per-square-foot for starters."
It thus seemed only appropriate when Curbed San Francisco released its list of the top ten most expensive homes on the market in the city right now.
(SCROLL DOWN FOR PHOTOS)
As Curbed pointed out, all but one are located in Pacific Heights (two streets account for seven of the listings), and most reflect San Francisco's classic Victorian and Beaux Arts aesthetic. But there are a few surprises.
Click through our slideshow below to see the ten most expensive San Francisco homes currently on the market. Happy house hunting, everyone!
San Francisco's Most Expensive Houses
As Curbed pointed out, this three-bedroom, six-bathroom (plus two-powder room) Beaux Arts home was designed by the same architect behind City Hall and the Opera House. It also hosts amenities including a library, an elevator, a wine cellar, a theater and a luscious French garden. 2209 Pacific Avenue.

One of Cow Hollow's few modern homes, 2555 Union St. utilizes concrete and steel in this four-bedroom, three-and-a-half bathroom house. The home is contemporary inside and out, with rock gardens, clean lines and spaces and guest-friendly details like an entertainment room and gallery.

Eight bedrooms, eight-and-a-half baths, classic San Francisco, full bar and billiard room, once belonged to Metallica's Kirk Hammett -- all perched on top of Pacific Heights. Rock and roll. 2505 Divisadero St.

A classic example of SF Beaux Arts architecture, 2698 Pacific Ave. has details like a pair of grand staircases, numerous great rooms with working fireplaces, ornately stamped and etched ceilings, a formal dining room, a motorcourt, eight bedrooms, seven bathrooms and two powder rooms.

Herbst Manor is one of San Francisco's more recognizable Pacific Heights landmarks. According to Curbed, the interior is awash with mirrors, gilt trim and murals, and the famous exterior is a fortress of brick. Inside, the five bedrooms are surprisingly filled with light, and floor-to-ceiling windows on the top floor offer a spectacular view. 2800 Pacific Ave.

This whopping, 16,474-square-foot, 11-bedroom, 11.5-bath estate is another Pacific Heights landmark. The 75-foot lap pool, carriage house, a stained glass domed ceiling make 2799 Pacific Ave. the stuff Danielle Steele novels are made of.

HuffPost SF realizes that there is no picture of the actual home in this slide (click here for dozens of them) but we felt that the most impressive feature at 2020 Jackson St. is the sky-high rooftop terrace. (Also not pictured is the entirely out-of-place, but super sweet yellow corkscrew tube slide in the children's playground.) A unique property, 2020 Jackson is a maze of indoor and outdoor spaces and opulent and luxurious features. It's also a wonderland for children: included in the seven bedrooms is a charming children's room with an impressive Peter Rabbit mural.

HuffPost SF covered this beauty back in July, and the house doesn't seem to have lost any of its luster. 2808 Broadway boasts multiple kitchens, four bedrooms, an arched portico entry, a lush courtyard, an adorable pitched ceiling top floor bedroom and all of the usual Pacific Heights mansion amenities.

This baby needs an aerial shot just to get the whole place in the photo. Besides a panoramic view of the Golden Gate bridge, the bay and the entire city, 2901 Broadway also has a surprisingly fresh interior. Unlike most of the mansions on the street, 2901 Broadway pops with cyan bedrooms, a music room, a dark and modern dining room and tangerine and eggplant accents throughout. (There's even an old VW bug in the garage!) However, according to Curbed, the place is also in dire need of repairs, which accounted for a recent price dip.

And finally, the grand dame of San Francisco real estate, 2845 Broadway. Curiously, the house isn't even finished (isn't even close to finished), but that's not keeping it from clocking in at 38.5 million on the one percent scale. A self-proclaimed Gold Coast masterpiece, the estate spans two lots and is wrapped entirely in French limestone. Inside, a three-story, sun-filled atrium makes for a stunning centerpiece, and gives the Italian home great potential. And for anyone flabbergasted at the price, just check out this place in Palo Alto.