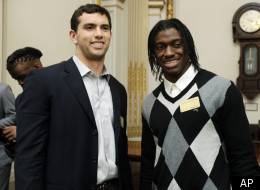 The 2012 NFL Draft is finally here.
We already know who the top two picks will be on Thursday night at Radio City Music Hall. But that doesn't mean there won't be any drama.
The Indianapolis Colts have already confirmed they they will select Stanford's Andrew Luck while the Washington Redskins revealed shortly before the draft that they will take Heisman winner Robert Griffin III (surprise!).
As for the rest the draft, nobody knows. The hundreds of mock drafts that have been released over the past few weeks have projected seemingly infinite outcomes. Will the Vikings go with USC's Matt Kalil? Or maybe they'll snag wide receiver Justin Blackmon?
Will there be any trades concocted in the various draft war rooms? Will Miami take Ryan Tannehill? Could he really be the next Dan Marino?
All of these questions will be answered tonight. The first round of the draft begins at 8 p.m. ET. Rounds two and three will take place on Friday night and the four through seven will be done on Saturday starting at noon.
Follow our live blog for each pick and commentary throughout the draft.
With the last pick of the first round, the Giants will select running back David Wilson out of Virginia Tech.