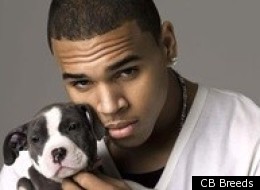 R&B singer Chris Brown is selling pit bull puppies for $1,000 a pop on a new site called CB Breeds, and shelter advocates are none too pleased about his new hobby.
A release from the Society for the Prevention of Cruelty to Animals Los Angeles (spcaLA) called Brown a "backyard breeder" and encouraged the singer to use his celebrity to encourage shelter adoptions.
"There is no reason to breed and produce more Pit Bull puppies when there are Pit puppies waiting for homes in every shelter in America," said spcaLA President, Madeline Bernstein in the statement. "The $1000 price tag for a Chris Brown puppy could be better spent money saving the lives of shelter animals."
Brown's reps told the Associated Press that the site wasn't a new side-business for the singer. Instead, Brown is simply trying to sell a litter of puppies that his family's dog had given birth to two months ago.
Indeed, Brown doesn't seem to have directly addressed the new site. Instead, his mother Joyce Hawkins tweeted the site link on Monday, advertising the dogs as "Chris Brown Puppies."
CHRIS BROWN PUPPIES FOR SALE. GO TO cbbreeds.webs.com

— Joyce Hawkins (@mombreezy) April 22, 2012
CB Breeds guarantees that the seven chocolate and caramel-colored dogs, named Jett, Music, Fortune, Beauty, Pretty, Precious and Princess, all come with registration, current vaccinations and a four-generation performance pedigree.
Across the nation, pit bulls are flooding animal shelters because they are often mass-bred to be fighting dogs and then quickly abandoned. A report from Maricopa County, Ariz. revealed that pit bulls were the most likely breed to be euthanized because their violent reputations discouraged families from considering them for adoption.
To combat the breed's stigma, local shelter organizations that focus solely on pit bulls are helping to rehabilitate the dogs and raise awareness to increase adoptions.
If you're in the Los Angeles, Calif. area and are looking for a rescue pup to share your life with, check out these nine shelter dogs that need homes now.
Beetlejuice (aka BB) Age: 3 years Breed: Pit Bull Mix Time at shelter: 22 weeks BB is a long-time resident of Best Friends Pet Adoption Center, and a staff favorite. He always aims to please. This big guy is very strong, and still practicing leash manners. He could very easily be housebroken. BB is excellent with adults and kids, preferring their company to other dogs. Accordingly, BB is looking for a home where he can be the only four-legged friend, and most importantly a bountiful snack supply!

Bugsy Age: 2 years Breed: Rhodesian Ridgeback Mix Time at shelter: 15 weeks Bugsy came to Best Friends Pet Adoption Center very underweight, and has since fought through a case of pneumonia. Nonetheless, this handsome Rhodesian ridgeback is very soulful, devoted, and calm. He is great with other dogs, including little ones. Bugsy also makes an excellent companion dog; he will find peace and comfort running errands with you or sitting across your lap. He is very easy-going and would make a great addition to any family.

Caspian Age: 10 years Breed: Cocker Spaniel Mix Time at shelter: 11 weeks (in foster, likely adoption) Although he came into the shelter heavily matted and tormented by a painful, chronic ear infection, Caspian is the kind of boy that looks at the glass half-full. This cocker spaniel mix is housebroken, affectionate and patient, with an eagerness for walks in the sunshine. With some TLC and veterinary attention his ears are finally on the mend, and he is ready to spend his golden years in the comfort of your home!

Miranda Age: 3 years Breed: American Pit Bull Mix Time at shelter: 12 weeks With her elegant gait and poise, Miranda could be deemed the First Lady of Best Friends Pet Adoption Center. She is very tolerant and friendly with other dogs, and can't wait for her next play group opportunity. She is also housebroken, and faithful to her human friends. While Miranda has lots of energy to expend, this lady is exceedingly smart and highly trainable.

Nola Age: 4 years Breed: French Bull terrier Mix Time at shelter: 13 weeks Nola arrived at Best Friends ready to share her love of life. She loves to run and play, and can hardly contain herself when the leash comes out! Nola is also housebroken. Very smart and bursting with energy, Nola would do well with an experienced handler.

Pantera Age: 3 years Breed: Labrador Retriever Mix Time at shelter: 13 weeks (in foster home) In another world, Pantera may have been the typical black dog that gets overlooked at the shelter. But at Best Friends Pet Adoption Center she is a lovable, engaging, energetic favorite. Pantera will play fetch until the sun goes down. She is very trainable, listens well, and enjoys playing with other dogs.

Peter Pan Age: 1 year Breed: Chihuahua Mix Time at shelter: 7 weeks Peter Pan came into our care tremendously nervous and hesitant with people. Once moved in, Peter Pan gained confidence in his friendship with kennel-mate Godiva, and would not walk without her! Now mourning Godiva's adoption, Peter Pan would find comfort in a quiet and calm home with another dog to continue growing his confidence.

Sarge Age: 7 years Breed: Labrador retriever Mix Time at shelter: 22 weeks A long time resident of Best Friends Pet Adoption Center, this Labrador and German shepherd mix enjoys his "office dog" days, providing a much needed respite from the stresses of kennel life. Once out of the kennel, Sarge is sweet and gentle, treating people with respect and reverence. Sarge is low maintenance, and would flourish in a quiet, relaxed home.

Sonic Age: 7 years Breed: German Shepherd Mix Time at shelter: 12 weeks total ( 7 weeks if you discount the time that they were adopted) Sonic was surrendered to the shelter with his brother Simba. Sonic is curious and smart, playful and spunky. Sonic is great with his brother, but not necessarily with other dogs as he likes to be the boss! However, he would do well in a home with kids and cats. What's more, Sonic is already housebroken.