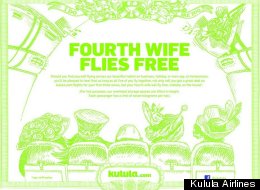 Flying with family members can get expensive, particularly for polygamists. But a new airline promotion could provide big savings for gentlemen with numerous wives.
South Africa's low-cost carrier Kulula Airlines is offering deal where a man's fourth wife flies free, ABC News reports.
The cheeky promotion is timed with the South African president Jacob Zuma's marriage to his fourth wife over the weekend, notes Fox News.
Promoted on the low cost airline's Facebook page, the deal is only available until April to 30 for flights from Johannesburg to Cape Town.
CNBC explains the deal comes on the heels of the Colombia Secret Service prostitution scandal which prompted Spirit Airlines to offer a new "More Bang for Your Buck" promotion on one-way fares to Cartagena, Colombia, for as low as $19.80.