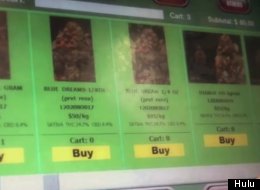 Taking Purell shots with John Cusack was only the beginning. Now, Jimmy Kimmel has moved on to the archetypal gateway drug, marijuana.
The talk-show host himself wasn't participating in cannabis consumption, but instead just revealing his thoughts on Autospense: the marijuana vending machine.
"Finally we'll have somewhere to buy marijuana other than the 7,000 medical marijuana shops that are on every corner here," Kimmel joked.
He continued by bringing up a very good point, "Isn't every vending machine made for pot smokers?" Watch the clip above.
Amid the jokes, Autospense is embroiled in a legal debate over using technology patented by Medbox, Inc. The company has been served a cease and desist.
PHOTOS: Check Out 16 Facts On Marijuana And Business:
16 Facts About Marijuana And The U.S. Economy
The government would save an estimated $13.7 billion on prohibition enforcement costs and tax revenue by legalizing marijuana, according to a paper endorsed by 300 economists.

Inmates incarcerated on marijuana-related charges cost U.S. prisons $1 billion annually, according to a 2007 study, AlterNet reports.

Including lost tax revenues, a 2007 study found that enforcing the marijuana prohibition costs tax payers $41.8 billion annually, Forbes reports.

Marijuana growers account for $14 billion a year in sales in California, making it the state's most valuable cash crop, TIME reports.

It's estimated that illegal marijuana is a $36 billion industry in the U.S., MadameNoire reports.

About one-third of Americans say they think legalizing marijuana would boost the economy, according to a 2010 poll by Associated Press-CNBC.

The Sacramento News and Review saw a big boost in ad revenue when it offered advertising space for more than 60 medical marijuana dispensaries, enabling the publication to hire three additional employees, according to News 10.

Mendocino County, California's zip tie program aimed at regulating medical marijuana growing by charging permits for each plant raised $600,000 in revenue in for the Sheriff's department in 2011.

The city of Oakland, California raised $1.3 million in tax revenue from medical marijuana dispensaries in 2011, 3 percent of the city's total business tax revenue, according to The New York Times.

In 2011, Colorado pulled in $5 milllion in sales taxes from medical marijuana businesses, The New York Times reports.

Economist Stephen Easton estimated in 2010 that legal marijuana could be a $45 to $100 billion industry, Bloomberg Businessweek reports.

When hydroponic marijuana growing supply chain weGrow opens a new store it creates an estimated 75 jobs indirectly, according to AZBusiness Magazine.

More than 60 percent of states agree with taxing marijuana, according to a poll by Associated Press-CNBC.

A Norwegian study 25 years in the making came to the shocking conclusion that frequent marijuana use lowers employees' motivation at work.

There could be more than 1,000 medical marijuana dispensaries operating in California, Pasadena Weekly reported in 2009.

As of July 2011, the city of Denver counted more medical marijuana dispensaries than Starbucks franchises.