A Natalie Portman la hemos visto con el cabello arreglado en decenas de maneras distintas, así que verla casi a rape no nos sorprende demasiado. Como sea, no podemos dejar de hablar de la belleza única de esta actriz, que siempre está dispuesta a posar para las cámaras sin necesidad de un maquillaje o un peinado demasiado elaborados. Podemos decir que a Natalie le apasiona el arte y le gusta ser musa de fotógrafos o cinematógrafos por igual. En este caso, su perfil desnudo es el único 'accesorio' de la portada de la nueva edición rusa de la revista 'Esquire'. Simple y bello, no hay más.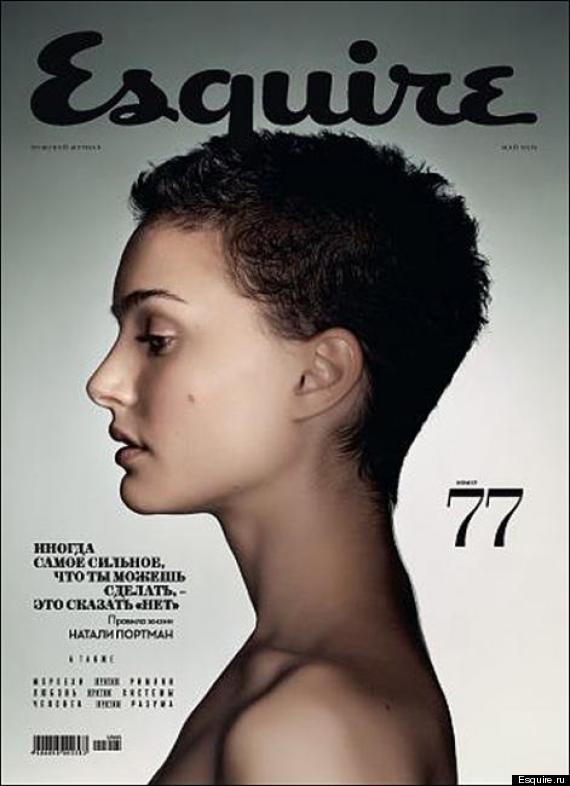 Fue en 2005 cuando Natalie Portman se despojó de su melena para la filmación de 'V for Vendetta'. En aquel entonces, la chica no le dio gran importancia al suceso, a pesar de que captó la atención de todos los medios. Cuando se le preguntó si sabía en dónde había quedado el cabello que se había afeitado, respondió: "Lo tengo en algún sitio, ¡pero realmente no sé en dónde está!". El cabello de Portman creció, y después de aquello no la habíamos visto con un pelito tan corto como el que luce en el número 77 que 'Esquire' lanza este mes de mayo.
Si esta fotografía es reciente, no lo sabemos. Así que estamos ansiosos por averiguar si la actriz volvió a meterle tijera a su cabeza. Seguramente algún paparazzi nos lo revelará muy pronto.
Recuerda aquí algunos de los looks más reciente de Natalie Portman:
El cabello de Natalie Portman
Mira más de Natalie Portman en video:
SUBSCRIBE AND FOLLOW
Get top stories and blog posts emailed to me each day. Newsletters may offer personalized content or advertisements.
Learn more