[W]e're disappointed. Throughout the morning Wednesday, our Twitter timeline exploded with feedback. We even received a string of phone calls to our office.

All of a sudden, people cared - and it was all about a Mexican restaurant.

Sorry burrito lovers, in a list of the most important issues covered this year, the potential closing of Los wouldn't even make the top 10.

We have never seen students engage with our content the way they did today. And frankly, we think there are things that deserve your attention more.

Instead of suddenly mobilizing when your quesadillas and margaritas are at stake, start engaging with issues that actually affect you - and the thousands of dollars you pay this university each year.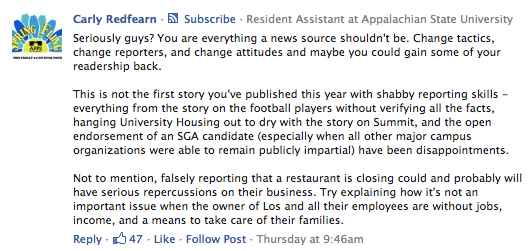 [We] do understand, at a further remove from the situation, that our tone offended many of our readers. We are deeply sorry for that, just as we're sorry for our original reporting error. We tend to feel, like many college newspapers, that we have a little more room for sass on our opinion page. That's all that was meant by the tone of the editorial — snark, not condescension or deflection of our original responsibility.
SUBSCRIBE TO & FOLLOW THE MORNING EMAIL
The Morning Email helps you start your workday with everything you need to know: breaking news, entertainment and a dash of fun. Learn more