We've been itching to jump on the "dipped" furniture trend for a while now (where the ends of table and chair legs are a different color than everything else), so when we came across this bright and cheery entry table by blogger Emily Mielnik of The Sweet Beast, we knew we had to give it a try. Mielnik picked up a budget-friendly SVALBO sideboard from IKEA to do this project, but you can use any old table in need of a makeover to get the trendy two-tone look for yourself. All it takes is a little bit of paint. Keep reading for the how-to.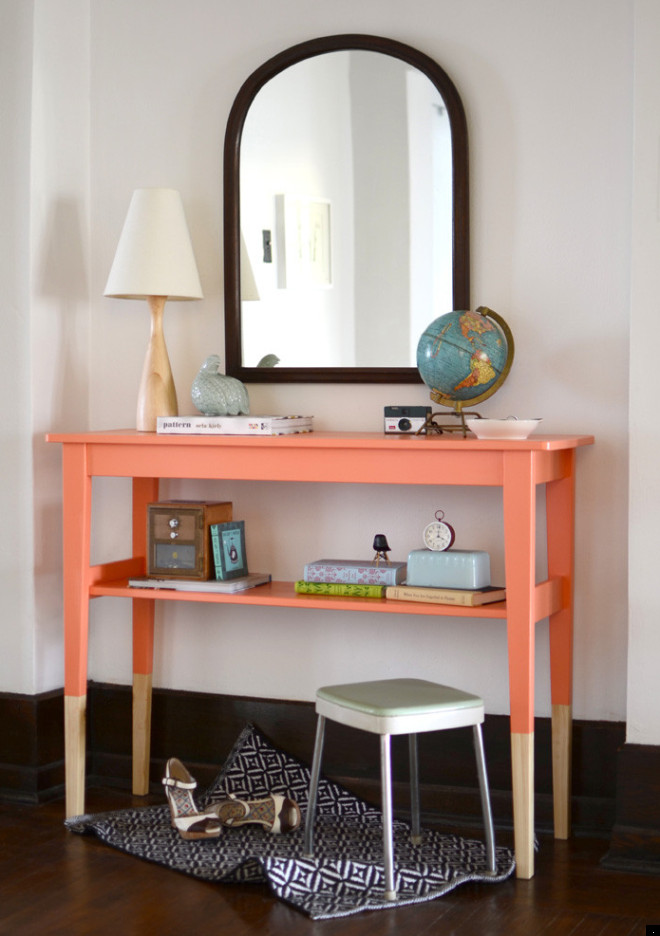 Photo by Emily Mielnik of The Sweet Beast
For this project, you will need a sanding wedge, painter's tape, primer, latex paint in the color of your choice, and a Polycrylic protective finishing. Begin by sanding over your entire table to help your paint better adhere to the wood surface. Then, add a strip of painter's tape about 13 inches up on each leg and prime the entire table above the areas you marked off. Next, apply two coats of latex paint over the primer, letting each layer dry completely in between. Try using a roller over the surface of your table top to reduce the appearance of brush strokes. Finally, give your table a glossy finish by painting over everything (including the unpainted parts) with a coat of water-based Polycrylic. When you're all done, you'll have a colorful piece of furniture that's chic and on-trend.
For the full tutorial, visit The Sweet Beast Blog.