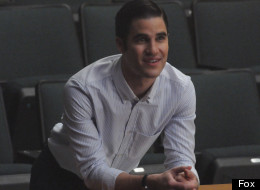 Get ready to "Shake It Out" on "Glee." The Fox musical dramedy is covering the Florence and the Machine hit in "Choke" (Tues., May 1, 8 p.m. ET). The ladies of New Direction take on the song, which was previously covered on NBC's "Smash" by Katharine McPhee.
Other "Choke" songs include Alice Cooper's "School's Out" (watch the video below), "Cell Block Tango" from the musical "Chicago," "Not the Boy Next Door" from "The Boy From Oz," "The Rain In Spain" from "My Fair Lady" and Kelly Clarkson's "Cry."
In "Choke," Kurt and Rachel audition for NYADA professor Carmen Tibideaux, who Whoopi Goldberg will portray for three episodes.
Click over to the official "Glee" music site to hear the songs.