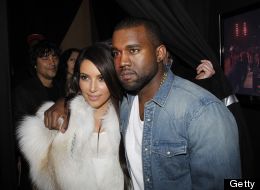 When Kim Kardashian and Kanye West stepped out three weeks ago for an epic date and apparent sleepover, their newfound union was met with disbelief -- even though the pair have been "friendly" for years. Immediately, the coupling sparked suspicion of a publicity stunt: "It's just publicity. I'm sure they (the pimp mama) have this all planned out. You can't tell me that she couldn't have slipped out or brought an overnight bag or called in her stylist. It's another shame," HuffPost commenter Dietcokefreak wrote the day the news broke.
Meanwhile, user "isaluna" wrote: "All I can say is Kanye's credibility will be zero if that happens."
Kim, yes, but Kanye? While Kim's 72-day marriage to Kris Humphries makes us wary of her intentions, the notion of Kanye pursuing Kim for the sake of buzz left us shaking our heads.
Here, two HuffPost Celebrity editors duke it out over whether West's intentions are pure or both parties are simply courting press in an effort to help push their respective projects. Youyoung Lee argues that Kanye West genuinely adores Kim, while Erin Clements says Kanye is as guilty as Kim of creating a media sensation out of their budding romance.
Step


1
Pre-debate poll:
Tell us your opinion before the debate starts to set the starting line
It's not for publicity: Kanye genuinely likes Kim Kardashian.
Agree - Thanks for voting! Please proceed to read the debate below
Please vote to proceed to the debate
Step


2
Who makes the better argument?
Kanye must like Kim, because Kanye doesn't do publicity for publicity's sake. Or, to put it another way: Kanye's fling with Kim couldn't possibly be a publicity stunt, because Kanye has no idea how to manipulate the press. What?
Let's take Kanye's peculiar brand of jack-assery, to quote Obama. After Kanye infamously stage-crashed Taylor Swift at the 2009 MTV VMAs, Kanye ran home and apologized on his blog ("EVERYBODY WANNA BOOOOO ME BUT I'M A FAN OF REAL POP"). Kanye apologized for the incident several more times. A few weeks later, he canceled a much-anticipated tour with Lady Gaga. And one year later, he was still apologizing, announcing via Twitter that he had written "a song for Taylor Swift that's so beautiful and I want her to have it."
All of these mea culpas could be seen as an effort to restore public opinion if it weren't for a disastrous appearance on the "Today" show in November 2010 that showed Kanye losing his temper once again. In the interview, Matt Lauer grilled Kanye about his "George Bush doesn't care about black people" comments before replaying the VMA incident. "Yo, how am I supposed to talk if you're going to run this thing in the middle," a clearly peeved Kanye spat out. He then took to Twitter to criticize the producers for a "very brutal" interview and waxed some curious "I feel very alone very used very tortured" poetry.
Entertainment aside, Kanye's foot-in-mouth syndrome appears to come from a genuine place. He's transparent and earnest and definitely not media-savvy. On the contrary, he's a hothead who acts spontaneously in the moment and then apologizes for his "mistakes" for years to come. These are not the actions of a man who is coolly cultivating a positive public image. These are the actions of a man who probably could use some editing and a chill pill.
And there's more. Call it the George Clooney syndrome: Just as Clooney has fawned over Brad and Angelina to the point where they might as well adopt him as their own child, so has Kanye become the slightly creepy third party to another high-profile couple -- Jay-Z and Beyonce, who recently celebrated the birth of their first child and fourth wedding anniversary. When Beyonce announced her pregnancy at the MTV Awards Show in August last year, the camera panned to a clearly excited Jay... and a clearly excited Kanye, jumping up and down with unabandoned glee. A good friend? Sure. But one has to wonder whether Kanye, eight years his mentor Jay's junior, also seeks a female companion who could ostensibly fit the mold of Beyonce: a female mogul with a formidable business and brand -- the kind of woman who could win the title of People's "Most Beautiful Person Of The Year." As a recent US Weekly story put it, Kanye is looking for a Bey to his Jay.
But one crucial difference remains: Beyonce has carved a career out of being a brilliant artist and performer, while Kim is famous for, well, nothing other than being famous.
This latter bit is exacerbated by the fact that Kanye's demonstrated such impeccable artistic taste. He hired Japanese artist Takashi Murakami to design the cover for "Graduation" and consistently defies genres, sampling anything from Daft Punk to Otis Redding to Norwegian indie band Peter Bjorn and John. The original (and eventually banned) cover art for 2010's "My Beautiful Dark Twisted Fantasy" was painted by American artist George Condo -- the same artist who enjoyed a critically-lauded solo exhibition at the New Museum a few months after the album's release. One wonders what on earth Kanye has to say about Kim's barely-trying single, "Jam (Turn It Up)."
Kanye's other public girlfriend involved an off-again, on-again relationship with a then-unknown model, Amber Rose. Amber was always more edgy and avant-garde than Kim was: her shaved head, stripper past and modeling contract seemed to represent a kind of counterculture Kanye fans could get behind. But even then, the relationship was cut short by an alleged affair with a third party: Kim Kardashian.
Jackassery of that magnitude -- even when it's alleged jackassery -- surely can't be just for show. In music, in jackassery, in love, Kanye is always for real.
One of the fundamental differences between Kanye West and Kim Kardashian is that the former lacks a filter. When many described his notorious outburst at the 2009 VMAs as rude, others --such as Jay-Z, who called his pal "super-passionate" -- defended Kanye for speaking his mind. Kardashian, on the other hand, makes every bat of her criminally long eyelashes appear calculated. When she demurely coos bromides such as "I believe in love," it seems as contrived as most of the "Keeping Up With the Kardashians" storylines. So it's easy, then, to hold Kim solely responsible for orchestrating the publicity generated by their rumored relationship. And West is an artist, having repeatedly proved himself to be a formidable force in music; unlike Kardashian, he's capable of generating buzz without having to exploit his personal life. Yet he's clearly game to do so anyway (remember 2007's fabricated 50 Cent feud?).
Kris Humphries has said that he's "not sure" if production of "Kourtney and Kim Take New York" during his 72-day marriage to Kardashian is responsible for its demise (um, we're guessing it wasn't exactly therapeutic). In fact, even Kim admitted to Cosmopolitan UK, "I wouldn't have another relationship shown on the show." She continued, "That might be too personal, especially when you're just meeting someone. It's taught me to be more private." While Kim is reportedly "leery" about broadcasting another relationship after the fiasco of her failed marriage to Kris Humphries, according to RadarOnline Kanye's told Kim that he "would love to appear" on "Keeping Up With the Kardashians."
Kanye, of course, is no stranger to the publicity mill. "Don't do no press but I get the most press, kid," he brags on "Mercy," released earlier this month. And he presumably understands that thrusting his burgeoning romance with Kim into the spotlight could likely have similarly detrimental effects. If he truly wanted to keep their hookup under the radar, he wouldn't want to appear on her show. And he certainly wouldn't be inclined to release a song in which he waxes lyrical about his feelings for her, complete with catty references to her soon-to-be ex, on the very same day of their first high-profile date ("lucky I ain't have Jay drop him from the team," he raps on "Way Too Cold," implying that he could ask Jay-Z to fire Humphries from the New Jersey Nets. Classy.)
And speaking of said rendezvous, the pair hasn't tried very hard to conceal their courtship. Renting out FAO Schwarz's giant-piano floor to reenact a scene from "Big" isn't really our idea of inconspicuous. Neither is grabbing ice cream in Soho on a Saturday (in tourist season!) or posing happily for photos at a high-profile Chanel dinner. Protecting their relationship from intrusive cameras and media speculation doesn't seem to be a priority for Kanye; but as suggests his recent statement, "If I don't say something in a rap or on Twitter, it's not true," he's just not prone to keeping his feelings private.
While Kim lacks Kanye's cultural cred, their brand of fame is not entirely dissimilar: Both are notorious attention seekers. Despite all of Kim's entrepreneurship, everyone knows that she first became a household name by appearing in a sex tape. And though West has won -- and earned -- a whopping 18 Grammy Awards, he's still associated with the unfortunate 2009 VMA stunt in which he interrupted Taylor Swift's acceptance speech. Whether blogging in all-caps (a.k.a. yelling), engaging in epic Twitter rants, taking bold sartorial risks (hello, leather kilt), comparing himself to Hitler or making other incendiary statements, Yeezy craves the spotlight just as much as she who televised her wedding on an E! special.
Whether or not the whole episode is merely a PR move to promote Kanye's upcoming album and Kim's upcoming season of "Keeping Up With the Kardashians," one thing's for sure: It takes two to make a "showmance."
Step
3
POST DEBATE POLL
Did one of the arguments change your mind?
It's not for publicity: Kanye genuinely likes Kim Kardashian.
VIEW DEBATE ROUND 1 RESULTS
Agree - Thanks for voting again! Here are the results:
moreless AgreeDisagreeUndecided
Youyoung LeeErin ClementsNeither argumenthas changed the most minds