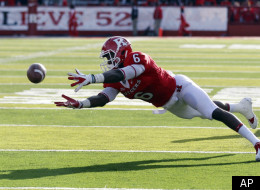 UPDATE: Mohamed Sanu was drafted in the third round on Friday night by the Cincinnati Bengals with the 83rd overall pick.
During the first round of the 2012 NFL Draft, the selections were being announced on Twitter faster than on the ESPN television broadcast. Prominent among those tweeting the picks in real time were Adam Schefter of ESPN and Mike McCartney, a player agent and former NFL scout.
@richardisfresh

Richard Olekanma
The advanced tweets proved to be true with one heartbreaking exception. Shortly before NFL Commissioner Roger Goodell announced the selection of the Cincinnati Bengals at the No. 27 spot in the first round, McCartney tweeted that former Rutgers wide receiver Mohamed Sanu was about to come off the board.
@TheBlueScreen

Ralph Vacchiano
Wow. Rutgers WR Mohammed Sanu, from his agent ... RT
@MikeMcCartney7
: SANU to Bengals!!!!!!
A few minutes later, Goodell stepped to the podium at Radio City Music Hall and called out the name of Wisconsin guard Kevin Zeitler. McCartney was raked over the coals on Twitter for his apparent mistake but the reason behind the incorrect tweet was more complicated than a case of an agent merely being overeager to promote his client. Sanu had received a prank call from someone posing as a member of the Cincinnati front office.
@MikeMcCartney7

Mike McCartney
Very cruel prank call to a Sanu tonight - very sad that someone would do that. My apologies to the twitter world for my tweet.
@MikeMcCartney7

Mike McCartney
Tough night. We all get knocked down in life and we gotta get back up. I believe in Mohamed Sanu as a player and person!
@M0SAnu
On Friday morning, Peter King of Sports Illustrated shed some light on prank, noting that Sanu's draft party "exploded" with excitement after the call. According to Chris Littman of The Sporting News, the prank call originated from a New Jersey area code.
According to a mock draft put together by Wes Bunting of the National Football Post, Sanu could finally be taken by the Buffalo Bills with the 41st overall selection (2nd Round).