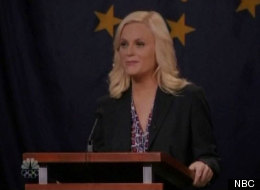 Leslie Knope's political campaign continued on "Parks & Recreation" (Thu., 9:30 p.m. ET on NBC) Thursday night.
Running for Pawnee City Council, Leslie (Amy Poehler) took part in a public debate against her chief rival, airhead candy heir Bobby Newport (Paul Rudd).
Leslie just blew everyone away, delivering an impassioned speech that had some viewers wishing on Twitter that she was a real politician.
Check out what episode writers Amy Poehler And Mike Schur told HuffPost TV about Pawnee "Debate Night."
Follow the campaign on "Parks & Recreation" Thursdays at 9:30 p.m. ET on NBC.
TV Replay scours the vast television landscape to find the most interesting, amusing, and, on a good day, amazing moments, and delivers them right to your browser.